Defence Secretary urges US to ratify defence trade treaty
Dr Fox robustly called for the US to ratify the treaty between Britain and the Americans. Both governments signed the treaty three years ago…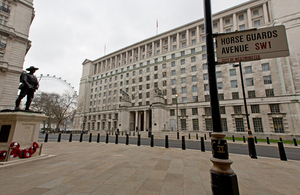 Dr Fox robustly called for the US to ratify the treaty between Britain and the Americans.
Both governments signed the treaty three years ago but the United States has yet to ratify the agreement which would see a reduction of bureaucracy involved in defence trade relations between the two countries.
During his first visit to the United States as Defence Secretary, Dr Fox held meetings with key senators and called on the US to ratify the treaty without further delay.
Speaking at the Heritage Foundation in Washington DC, Dr Fox said:
We are very keen to see the relationship flourish. We want to be a partner with the United States.
Dr Fox went on to say:
When it comes to a treaty of this nature, we expect to see fair play and we do not expect to see undue delay. We expect the United States and the politicians of the United States to deliver us what we were promised.
Published 2 July 2010