World news story
Defence Secretary statement to House of Commons on enhanced Forward Presence
UK Deputy Permanent Representative to NATO, Paul Johnston, provides context for the Defence Secretary's statement to House of Commons on NATO's enhanced Forward Presence deployment.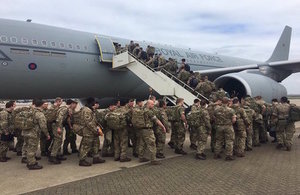 At the NATO-Russia Council on Thursday 30 March, the Alliance briefed Russia on plans for its new enhanced Forward Presence (eFP) deployments in the Baltic States and Poland. As the Warsaw Summit declaration made clear, eFP is intended to demonstrate NATO's solidarity, determination and ability to act, by triggering an immediate response to any aggression against NATO territory.
The UK is taking a leading role in NATO's enhanced Forward Presence, as are the US, Canada and Germany. The Defence Secretary, Michael Fallon, set this out in detail in the House of Commons last week. Here is his statement.
At the Warsaw Summit in 2016, NATO allies agreed to enhance the Alliance's deterrence and defence posture in response to the growing threats the Euro-Atlantic region faces, including Russian belligerence. The UK is leading the work necessary to deliver an alliance that is capable and credible of responding to all threats. We took the decision to provide one of the four defensive, but combat-capable, battlegroups that NATO is now deploying to the Baltic States and Poland to defend NATO. This enhanced Forward Presence (eFP) demonstrates allies' solidarity, determination, and ability to act by triggering an immediate allied response to any aggression.​

The main body of our fighting forces will arrive in Estonia and Poland in the coming weeks. We are providing the framework battlegroup of around 800 military personnel in Estonia, with around 200 additional troops from France and Denmark: French forces will join us in 2017 and Danish forces in 2018. The 5 RIFLES is providing the majority of the UK military personnel for the first rotation, and we are also deploying armoured infantry equipped with warrior armoured fighting vehicles, artillery, tactical unmanned aerial vehicles, and a small troop of Challenger 2 main battle tanks.

Our battlegroup will contribute to regional defence and security. We will actively support the Estonian defence force's 1st Infantry Brigade in its role deterring aggression, and we will conduct joint exercising and training with Danish, French, Estonian, and other forces in the region to build a strong multinational battlegroup.

Based on our close bilateral relationship, we are also sending a British light cavalry squadron of 150 Light Dragoons to Poland. This force will fall under the US eFP battlegroup in Poland, and we will work closely with our Polish and US allies to deter aggression against NATO territory.

We are prepared in case our forces are tested by Russia, including through cyber-attacks and false media reports. We are taking all necessary steps to protect our personnel. We will ensure that our forces maintain the highest standards of conduct, and if it is found that a false allegation has been made against an individual or group of British Service personnel, the UK Government will ensure that the matter is publicly refuted and, where possible, provide clear attribution of the originator.

Our forces in Estonia are a proportionate response to the changed security environment in Eastern Europe, as demonstrated by Russia's aggressive actions in Ukraine. The eFP deployments send a strong message of NATO's strength and unity as well as its commitment to defend Poland and the Baltic states.

The UK has been transparent with Russia about our eFP plans; Vice Chief of Defence Staff General Sir Gordon Messenger discussed them with his counterpart, Colonel General Zhuravlev when they met in Moscow last month, and eFP has also been briefed to Russia at the NATO-Russia Council level.
Published 7 April 2017