Defence Secretary sets out his priorities
Secretary of State for Defence, Dr Liam Fox, has written a message to all military and civilian personnel setting out his objectives, priorities and intent for how policy will be translated into action in the months ahead.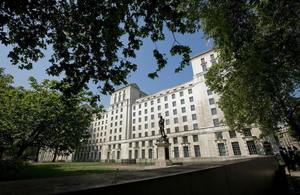 Dr Fox states in his message that Afghanistan will remain the top priority, adding that other operational commitments must be conducted effectively.
He says that his second priority is a cross-Government, policy-led, resource-informed Strategic Defence and Security Review, with a thorough examination of our force structure, looking at the overall shape, size and role of Armed Forces personnel and MOD civil servants, including the Reserve Forces.
Dr Fox states that in every aspect of Defence, particularly in the support area, he will be looking to bear down on costs, and that he intends to follow through on the commitment in the Coalition Agreement to reduce the MOD's running costs by 25 per cent.
Internationally, Dr Fox states that the core of UK security must remain NATO and that the US will be our major partner but we will also step up bilateral co-operation with France and other partners, and revitalise a broad programme of defence diplomacy.
He also said he expects to reset the MOD's relationship with the defence industry to reflect our changed economic circumstances and push ahead with the process of acquisition reform.
Dr Fox's full message to all military and civilian staff here follows:
Following discussions with my MOD ministerial colleagues, PUS [Permanent Under Secretary], CDS [Chief of the Defence Staff], and other members of my top team, I have agreed the following objectives and priorities for the remainder of 2010.
"Afghanistan will remain the top priority. Our people in theatre must get the best possible support. Counter-insurgency needs strategic patience but by the end of the year I expect that we can show significant progress with the mission, building on previous achievements, consolidating ISAF's hold in central Helmand, and accelerating the training of the Afghan security forces that is already ahead of target.
"Achieving success in Afghanistan must not prevent us from conducting our other operational commitments effectively or from preparing to meet other contingencies, particularly in the Middle East. I shall be conducting a thorough stocktake of our contingency plans in the months ahead.
"The focus for many of us in the next six months, and my second priority, will be on conducting a cross-Government, policy-led, resource-informed Strategic Defence and Security Review [SDSR]. I am determined that this exercise will bring defence policy, plans, commitments and resources into balance, and produce over time a transformative change to British Defence. This will not be a salami-slicing review but one which provides coherent long-term policy direction and takes the tough choices required to produce the Armed Forces and wider defence capabilities the country will need in the decades ahead.
Published 10 June 2010