Defence Secretary responds to e-mail error
Defence Secretary Dr Liam Fox has spoken of his 'fury' that 38 soldiers learned by e-mail that their contracts on the long-service list would not be renewed.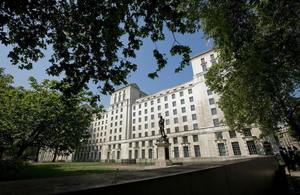 here is widespread coverage in the media this morning that 38 serving Warrant Officers on the long-service list learned from the Army by e-mail that their long-service contracts would come to an end in twelve months' time.
Responding, Dr Fox said:
I am furious that such a situation should occur. This is no way to treat our Armed Forces personnel. I want to know how this was allowed to happen and what measures will be put in place to prevent this from happening again.
An Army spokesman said commanding officers had apologised to those concerned and will also ensure they get advice and support.
Armed Forces Minister Nick Harvey has also apologised and said that all appropriate steps would be taken to ensure that this does not happen again.
Mr Harvey said a 'serious administrative error' had been made by the Army Personnel Centre:
People should have been seen individually and then an e-mail would follow with the details," he said.
Unfortunately in this case, it's happened the other way around. That's very regrettable and we will make sure it does not happen again.
For members of the Armed Forces who are made redundant, appropriate support will be provided for transition to civilian life. All Service personnel are able to consult a Resettlement Advice Officer at any time in their career for advice on transition.
Those who have served over four years will benefit from tri-Service resettlement provision through the Career Transition Partnership, which provides briefings, advice and guidance on issues such as housing and obtaining future employment, including access to a job-finding facility. They also have an interview with a career consultant for advice on obtaining future employment, and consultant support is available for up to two years post-discharge.
In addition to the above provision, those who have served over six years are also entitled to a three-day Career Transition Workshop, an Individual Resettlement Training Costs (IRTC) grant of £534 (non-taxable) and up to 30 days' Graduated Resettlement Time (determined by length of service) on full pay to attend training courses or carry out individual resettlement preparation.
Service personnel may also benefit from the Enhanced Learning Credits Scheme if they are members.
All Service personnel can approach the Regular Forces Employment Association which provides advice and support throughout their working life.
Published 15 February 2011