Defence Secretary meets NATO Secretary General
The Secretary General is in London for a series of meetings with senior political figures and met the Defence Secretary to discuss NATO strategy…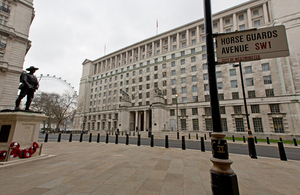 The Secretary General is in London for a series of meetings with senior political figures and met the Defence Secretary to discuss NATO strategy and progress in Afghanistan.
Dr Fox said:
The strength of the coalition in Afghanistan is key to success there and Mr Rasmussen and I had an extremely productive meeting here today. I was pleased to spend time with the Secretary General today to discuss a range of issues before the Kabul Conference.
The Kabul Conference is an important step in the process for the international community to support the Afghan Government in taking the lead in ensuring security and governance. Progress has been made since the London Conference.
The Afghan Government will set this out at the Kabul Conference, which ministers from over 70 other countries are expected to attend, as well as make further commitments to bring improved security, economic development and better governance to Afghanistan - priorities highlighted at the Consultative Peace Jirga in early June.
The international community will continue to support the Afghan Government in this.
Published 13 July 2010