Defence Secretary meets Malaysian Prime Minister
Defence Secretary Dr Liam Fox has held meetings with the Malaysian Prime Minister and Defence Minister, during which he reaffirmed his desire to reinvigorate the UK-Malaysian bilateral relationship.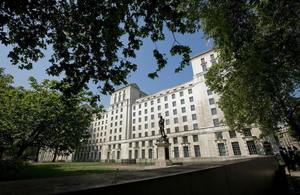 During his visit Dr Fox said that HMS Richmond and a number of aircraft will take part in an exercise in the Far East later this year as part of the Five Power Defence Arrangements.
Dr Fox said:
Malaysia is a friend and partner and I am delighted to be here today and have the opportunity to discuss defence and security issues of concern to both our nations such as peacekeeping operations, counter-piracy and Afghanistan.

These are challenges that confront both our nations and require a co-ordinated response with key allies in this inter-connected world.

We have long-standing ties between our two countries and also our Armed Forces, enhanced by our mutual membership of the Five Power Defence Arrangements.

The UK remains committed to these Arrangements and HMS Richmond will participate in a joint exercise later this year. It is the cornerstone of our engagement in South East Asia. We want to see the Arrangements continue to develop, especially in this 40th anniversary year.
Speaking on relationships with wider regional partners, the Defence Secretary said:
I said at the Shangri-La Dialogue last June that the new British Government places a high priority on our relationships in Asia and many countries in this region have long historical relationships with the United Kingdom.

Our national interests are directly affected by the security and defence challenges in the region and intimately linked to those of our friends and partners here.
The Five Power Defence Arrangements (FPDA) were agreed in 1971 and the member states are the UK, Australia, Malaysia, New Zealand and Singapore. Since then the FPDA have evolved in light of the developing global security situation and they remain a crucial forum for promoting dialogue and interoperability.
Published 17 January 2011