Defence Secretary meets his French counterpart
Defence Secretary Dr Liam Fox is in Paris to meet with his French counterpart Defence Minister Hervé Morin to discuss issues including NATO reform and the ISAF mission in Afghanistan.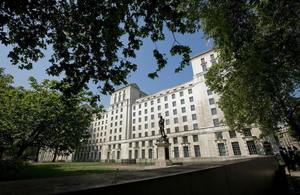 A close ally of the UK, France is a key player in the Afghan mission and in NATO.
There are more than 3,700 French troops in Afghanistan who provide security and development for the Afghan people - this makes France the fourth largest contributor to the ISAF mission in terms of personnel.
Dr Fox said:
The French have made a huge contribution to the ISAF mission in Afghanistan and I welcome the opportunity to speak with Mr Morin about this. We both agree on the importance of a continued military and civilian effort in Afghanistan.

Development of the Afghan National Security Forces is fundamental to delivering transition in Afghanistan, leading to the eventual drawdown of ISAF forces.

Mr Morin and I discussed the genuine progress we have seen being made on our respective visits to the country.
In addition to their combat role, the French Armed Forces are heavily involved with training the Afghan National Security Forces. They currently contribute six Operational Mentoring and Liaison Teams in Regional Command (East).
Dr Fox said:
Mr Morin and I discussed many issues including, of course, Afghanistan, but also NATO and Europe. I have found our meeting to be informative and productive and I look forward to working closely together in the future.
As key members of NATO and the leading military nations in Europe, the UK and France recognise the importance of a strong UK-France relationship for the defence and security of both nations.
Dr Fox said:
The UK and France are facing the realities of the tough financial climate and it is in our best interests to work together to deliver the capabilities that both our nations need.

Mr Morin and I are in agreement that closer co-operation is in both our countries' interests.
Dr Fox has recently met his counterparts from America, Germany, Italy and Canada.
On the publicised rumours about France and the UK sharing aircraft carriers, Dr Fox said:
In terms of actually being able to share an aircraft carrier, I would have thought that that was utterly unrealistic.
Published 3 September 2010