Defence Secretary meets combat surveillance teams at RAF Waddington
Dr Liam Fox met the crews and support personnel behind the RAF's combat intelligence, surveillance, target acquisition and reconnaissance (ISTAR…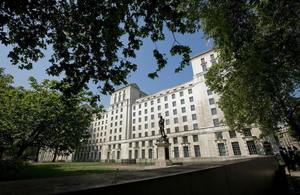 Dr Liam Fox met the crews and support personnel behind the RAF's combat intelligence, surveillance, target acquisition and reconnaissance (ISTAR) aircraft and was told how the aircraft and crews provide ground forces in Afghanistan with unrivalled surveillance of insurgent activity.
The intelligence gathered by the RAF's aircraft and interpreted by its personnel is also helping soldiers detect and avoid IEDs.
Dr Fox said:
Highly detailed imagery provides our ground forces with the incredibly accurate information they need to detect insurgent activity and spot potential IEDs.

It was a great honour to meet the men and women who fly and support our combat surveillance assets in Afghanistan.
These talented and dedicated people are getting the best from our technology and making a crucial contribution to restoring security in Afghanistan.
After meeting the air and ground crews who capture the situation on the ground, the Defence Secretary saw the RAF Regiment's counter-IED procedures that are based on the intelligence gained from the ISTAR assets and analysts.
During the visit, the Defence Secretary also met many of the RAF air and ground crews who have been deployed to Afghanistan and who spoke of their support to ground forces and their efforts to improve security in Afghanistan.
Group Captain Richard Powell, Station Commander of RAF Waddington, said:
In Afghanistan there has been increasing demand and importance for high quality and current intelligence to enhance situational awareness to support coalition operations, particularly as insurgents, connected through modern communications, seek to merge and fight amongst the civilian population.

Air and space intelligence and surveillance capabilities are essential to operations.
Combat ISTAR is a capability based around several interconnecting systems. Air assets such as Tornado and the Reaper Remotely Piloted Air System work along with other platforms such as Sentry and Sentinel aircraft.
Ground segments such as the Operational Level Ground Station and the Tactical Ground Station process and analyse the information received, offering commanders on the ground an unparalleled picture of the operational environment.
Published 5 August 2010