Defence Secretary makes statement regarding Libya evacuation
As the evacuation of British citizens continues from Libya, Defence Secretary Dr Liam Fox has made the following statement: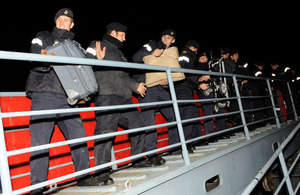 I can confirm that two RAF C-130 Hercules aircraft have evacuated more than 150 civilians from desert locations south of Benghazi," he said.
The first aircraft has landed in Malta and the second will arrive shortly. HMS Cumberland is on her way back to Benghazi to evacuate any remaining entitled persons from there.
HMS York has arrived in Valletta to take on board stores in order that she can assist with the evacuation effort as required. A number of other military assets remain available to support the FCO-led efforts to return civilians from Libya.
Published 26 February 2011