Defence Secretary launches new forum of northern European countries
The first forum of its kind, consisting of the Nordic and Baltic States plus Germany and Poland, will enable the UK to engage with countries…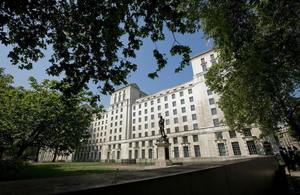 The first forum of its kind, consisting of the Nordic and Baltic States plus Germany and Poland, will enable the UK to engage with countries who are not members of both NATO and the EU.
Following last week's French-Anglo treaty this is a continuation of the UK's drive to deepen bilateral and multilateral relations with our European neighbours.
Speaking in Oslo, Dr Fox said:
We cannot forget that geographically the United Kingdom is a northern European country. Let me be clear, this is not about carving out spheres of influence; this is about working together on mutual interests. For too long Britain has looked in every direction except its own backyard.

The goal here is to deepen bilateral and multilateral relationships with key regional partners, recognising and respecting sovereignty, but also recognising that today's world is one of necessary partnership not optional isolation.
In this multipolar world, we need more and different levers to act in the interests of our national and joint security. Therefore, we want to create a new and wider framework that makes it easier for both NATO and non-NATO members to have a closer relationship in the region.
Reflecting on the contributions to the campaign in Afghanistan that the nations in the new forum have made, Dr Fox said:
Collectively the 11 countries participating here today contribute around 19,000 troops to ISAF's mission in Afghanistan and provide the lead in six Provincial Reconstruction Teams. We are very proud that in Helmand today British troops are serving alongside our Danish and Estonian partners.
Talking about aspects of mutual interest to the new grouping, Dr Fox raised the subject of cyber security:
The UK's new Defence Cyber Operations Group will seek to form strong international alliances to increase our mutual resilience and joint operational capabilities," he said.
The Nordic nations have an enduring history of national resilience, rooted in the holistic concept of Total Defence, from which we all can learn; but this concept, developed during the past 50 years, must be remodeled to meet new threats, and here collaboration will be valuable.
Focusing on energy security matters, Dr Fox said:
Stable bilateral relations will be an insufficient safeguard of our mutual energy security without measures to preserve the physical integrity of supply routes and sources in Europe and beyond.

The scale and complexity of these networks will increasingly require our combined efforts to protect them. For the United Kingdom this isn't about telling our friends what we will do for them, or what they can do for us. This forum is about seeing what more we can do together.
Published 10 November 2010