Defence Secretary Dr Liam Fox comments on General McChrystal
Defence Secretary Dr Liam Fox has spoken to the media about yesterday's resignation of General Stanley McChrystal from his post as Commander of US and NATO coalition forces in Afghanistan.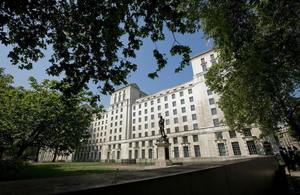 In a statement published on NATO's ISAF website General McChrystal said:
This morning the President accepted my resignation as Commander of US and NATO coalition forces in Afghanistan.
I strongly support the President's strategy in Afghanistan and am deeply committed to our coalition forces, our partner nations, and the Afghan people. It was out of respect for this commitment and a desire to see the mission succeed that I tendered my resignation.
It has been my privilege and honour to lead our nation's finest.
Speaking to the British media Dr Liam Fox said:
I think the first thing is to pay tribute to General McChrystal and his leadership and his total transformation of the strategy in Afghanistan.
General Petraeus is an outstanding General who will lead ISAF, I think, with distinction. I think the other thing to say is that Britain stands shoulder-to-shoulder with the United States in our determination to see through the mission in Afghanistan.
Asked whether ISAF's strategy in Afghanistan will remain the same, as it was General McChrystal who wrote it, Dr Fox said:
Well, it's very clear that that is now the coalition strategy; that we have a clear counter-insurgency mission in place; that we intend to be resolute in that mission; and that with General Parker, the British General taking over temporarily, we will get continuity, as we must have in this extremely important struggle against the trans-national terrorists who are making life difficult in that part of the world.
Asked whether the Taliban will be rejoicing at what they might perceive as division at the top of the NATO command, Dr Fox said:
There can be no celebration amongst our enemies, the Taliban or anybody else, because it's very clear that we're getting a continuity in policy; that General Parker, taking over temporarily will provide that continuity, and General Petraeus will continue the policy of counter-insurgency that General McChrystal started.
I think General McChrystal contributed a huge amount personally to the strategy being created in the way that it has, in shaping it and taking it forward, and we're enormously grateful to him for that.
General Petraeus is enormously distinguished, as we know, and will continue that leadership, and the struggle will go on with the strategy that was set out.
Published 24 June 2010