Defence Secretary and CDS attend first National Security Council meeting
The meeting was chaired by Prime Minister David Cameron and was also attended by permanent members including Sir Peter Ricketts, the new National…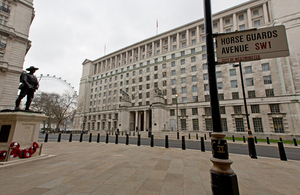 The meeting was chaired by Prime Minister David Cameron and was also attended by permanent members including Sir Peter Ricketts, the new National Security Advisor, and Deputy Prime Minister Nick Clegg.
Speaking after the meeting, a Downing Street spokesman said:
The Prime Minister this evening chaired the first meeting of the newly-established National Security Council.
"The Prime Minister began the meeting by paying a full tribute to the UK's Armed Forces and expressed his personal admiration and gratitude for their dedication and sacrifice. > > He then received briefings on the political and military situation in Afghanistan, including from his new National Security Advisor, Sir Peter Ricketts, and from the Chief of the Defence Staff. The Prime Minister was then updated on the wider UK security situation.
The attendees at the meeting were: Prime Minister, Deputy Prime Minister, Chancellor of the Exchequer, Foreign Secretary, Home Secretary, Defence Secretary, Secretary of State for International Development, Minister for Security, Minister for the Cabinet Office, Cabinet Secretary, Chief of the Defence Staff, National Security Advisor, Chair of the Joint Intelligence Committee, Director General of the Security Service, Director of GCHQ.
Published 13 May 2010