Defence scientists 10 years supporting Afghan front line
It has been more than ten years since science and technology experts based at the Defence Science and Technology Laboratory (Dstl) first deployed to Afghanistan in support of UK operations.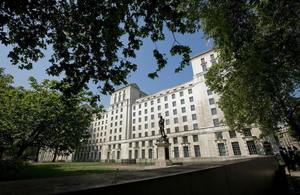 Since then, more than 350 separate deployments have been undertaken by Dstl personnel in a range of roles including the position of deployed Scientific Adviser, which was established in Afghanistan in 2006.
Dstl's expert level of scientific and analytical advice has been available, without interruption, to military commanders in Afghanistan since the summer of 2005. This is the longest ever continuous deployment of scientific personnel to an overseas operational theatre since the Second World War.
The first Dstl Operational Analyst deployed to Kabul with 3rd (UK) Division in February 2002 in order to provide scientific and technological analyses in support of military commanders' operational decisions.
An agency of the Ministry of Defence, Dstl provides personnel for 13 established posts in Afghanistan. In addition, there are also scientists and engineers who deploy for shorter periods, for example to conduct equipment trials or advise on training and equipment use.
Apart from making use of their own specialist knowledge, deployed personnel also 'reach back' to Dstl's 3,500-strong workforce and to colleagues across the wider MOD, other government departments, industry and academia. This wealth of available knowledge and experience ensures the most up-to-date scientific advice is provided to the military.
Aside from informing operational decisions, impact is also achieved practically through suggested upgrades for equipment in theatre as well as by testing potential new technologies in representative conditions to assess suitability.
In 2007, the Scientific Adviser established a permanent, secure trials area which enables this testing work to be carried out in a controlled environment.
In 2008, the Scientific Adviser developed an in-theatre solution to improve a particular vehicle's level of protection against improvised explosive devices (IEDs) by designing, testing and bolting on additional armour protection.
Subsequently, one of these vehicles struck an IED and fortunately all of the vehicle occupants walked away from the incident. It was considered that, had the temporary armour not been present, casualties would likely have been sustained. The additional protection was then fitted to all vehicles in that fleet.
More recently, a team of deployed Dstl staff, including the Scientific Adviser and Operational Analysts, worked together to test an Operational Concept Demonstrator (OCD) for a shot-detection system to locate sharpshooters.
The Operational Analysts used historic records of small arms fire to identify suitable areas and patrols where the system would have most utility. This would enable the Scientific Adviser and trials team to thoroughly test the OCD and evaluate its capabilities.
The shot-detection system is now used in Afghanistan and has been successfully identifying insurgent firing positions since it was delivered in 2011 by the MOD procurement organisation Defence Equipment and Support, thus providing more protection for dismounted soldiers.
Rene Nevola, who has deployed in both the Scientific Adviser and more recently in the Operational Analyst role, has just returned from Afghanistan (his fourth operational tour) and said:
We're relatively few, in terms of numbers of deployed staff, but we can really get to grips with the issues by working alongside the military every single day.

We work long hours and are under pressure a lot of the time, but from when we're asked by commanders 'what have you done for a soldier today?' it's clear that our input is valued and important. It feels good to use the skills and experience that I have to directly benefit front line troops and to see that effect each day.
Colonel Colin McClean, Equipment Capability Commander, directly supported by Rene in Joint Force Support, said:
It would be inconceivable, were we to deploy on operations in the future, that we would not have [Dstl's] capability available to the military. Our soldiers would not be as well served if it were not for the excellent relationship we've got, the subject matter expertise Dstl provides, and their commitment to the fight.
Dstl Programme Leader of Support to Operations, Nick Barrett, who has deployed twice said:
The impact of Dstl deployed scientists on operations in Afghanistan has been displayed by improving equipment and informing operational battle-winning decisions with scientific grounding.
Other examples of work carried out by Dstl staff in these deployed roles include:
• The development and implementation of a new three-tiered pelvic protection system to reduce the volume and severity of injuries suffered by soldiers in IED strikes. Tier 1 undershorts are now standard issue and the garments have been praised by the surgeons in theatre for 'significantly reducing the severity of trauma seen'. On return to the UK, the Scientific Adviser involved in the pelvic protection campaign was given a message of personal thanks from the girlfriend of a seriously injured soldier who can still have children because he was wearing the protection system.
• Analysis of the security processes and 'bottlenecks' when vehicles are cleared by security staff on arrival at Camp Bastion led to increased efficiency and decreased delays without the extra provision of manpower or real estate. This analysis drew on the Operational Analyst's expertise of flows in security systems and ensured each of the processes occurred in the correct order to be most efficient.
• In 2010, Dstl operational analysis assistance was provided to the planners of Operation MOSHTARAK, which was at that point the largest tactical UK operation ever launched in Afghanistan. Commanders were provided with casualty estimates and hospital planning analyses to assess the viability of existing infrastructure to support the operation. Mitigation strategies were considered as a result of the analyses and led to additional medical equipment and staff being deployed for the high-tempo period of the operation.
Please tell us what you think about government news on the web by filling in the short survey at Related Links.
Published 26 June 2012