Defence scientist awarded OBE for front line armour protection work
Dr Andrew Baxter of the Defence Science and Technology Laboratory (Dstl), based at Porton Down, has been the driving force behind many of the…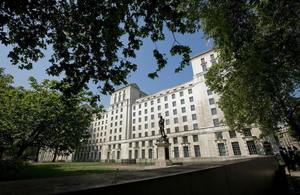 Dr Andrew Baxter of the Defence Science and Technology Laboratory (Dstl), based at Porton Down, has been the driving force behind many of the changes in protection delivered to troops in Iraq and Afghanistan.
He has 25-years of service with the Ministry of Defence, ten of which have been in his current role in Dstl's Physical Sciences Department.
During the past year, the 49-year-old from Salisbury in Wiltshire, has played a critical role in developing Foxhound, the Armed Forces' next generation of light protected patrol vehicle (LPPV). Dr Baxter helped set the protection requirements and provided a leading-edge assessment of industry proposals for the project. Working with the preferred bidder, Force Protection Europe, he has helped to guide the design of the vehicle.
The development of Foxhound took place in an incredibly short timeframe - from concept to initial delivery in just 36 months.
Penny Endersby, who leads Dstl's Physical Sciences Department, says Dr Baxter should take much of the credit for the project's success:
Andrew's outstanding leadership and wealth of knowledge in the armour protection field has helped produce a vehicle which redefines the protection of lightweight vehicles and which will undoubtedly reduce the loss of life or critical injuries to troops on the front line.
This is an excellent example of how scientific and technological input, working with colleagues across the MOD and in close partnership with industry, produces great results. Andrew is a worthy recipient of this award.
Dr Baxter's technical advice is widely respected across the UK Defence community, as well as by the UK police forces, in his role on the Vehicle Security Advisory Group. His views are also sought by international colleagues, particularly in the US and Australia.
48 civilians have been honoured in the 2012 New Year's Honours list, either for work in the Ministry of Defence or in other aspects of UK Defence, along with 119 UK Service personnel. **See the full list at Related News.
**
Published 3 January 2012