Defence personnel make the Civil Service Awards shortlist
Ministry of Defence personnel have been shortlisted for this year's Civil Service Awards, which recognise the very best practice across the Civil Service.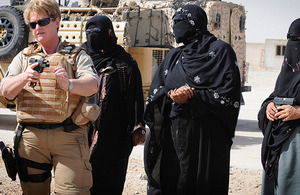 The Civil Service Awards celebrate the exceptional contribution and efforts of those who work in or with the Civil Service.
As in previous years, the MOD welcomed nominations from both civilian and Service personnel and this year we received over 50 nominations, many of which were considered for multiple categories which took our nominations up to 80.
The awards are now in their fifth year and continue to showcase best practice within the Civil Service. The awards shortlist announced today reveals that the MOD has made the shortlist in seven of the categories.
Permanent Secretary Sir Bill Jeffrey said:
I am pleased to see that there was such a strong response to the call for nominations for the Civil Service Awards.

I would like to thank all those who took the time to submit nominations and I would like to congratulate those seven teams that have made this year's shortlist. This demonstrates the passion and commitment that our people in Defence have to their work.

I wish those on the shortlist the best of luck at the ceremony in November.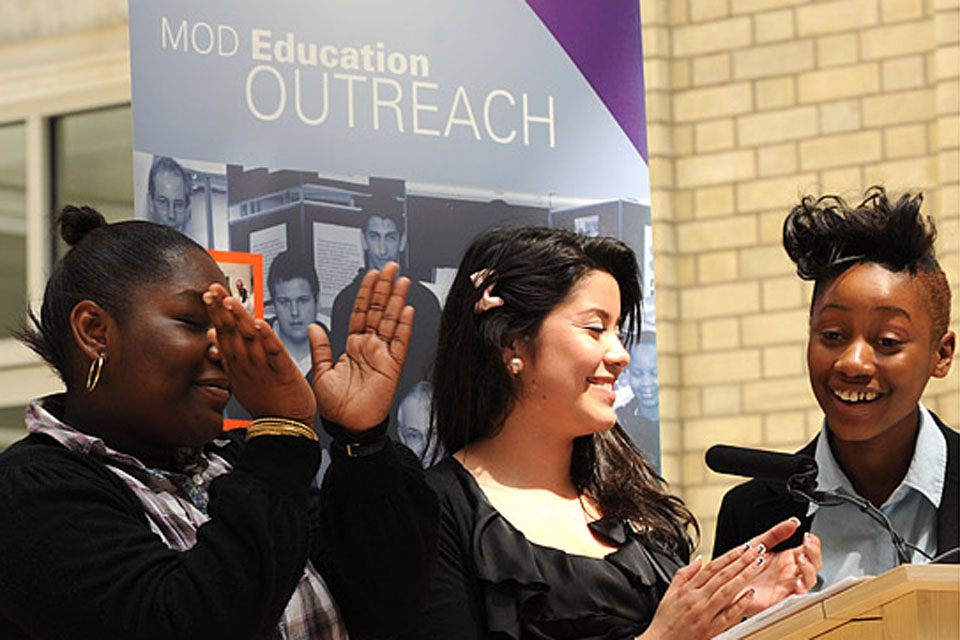 The Defence personnel shortlisted to receive Civil Service Awards this year are as follows:
Human Resource Award
The MOD Education Outreach Programme (Directorate of Civilian Personnel) has made the shortlist for the second year in a row. The programme is an initiative to instil life-long skills in students studying in a number of further education colleges across the UK where diversity is frequently above 60 per cent. Each year, through curriculum, personal development and employability skills support in college, over 2,500 students designated 'at risk' improve their chances of finding employment through training and receiving insight into the workings of a large employer.
Leadership Award
A new beginning for female Afghan police officers (Ministry of Defence Police and Guarding Agency). Having volunteered for a six-month international policing mission to Afghanistan in 2009, Sergeant Isabella McManus, a MOD Police Officer, identified the need to develop female Afghan National Police (ANP) capacity and capabilities by creating a female police division in Helmand province. By establishing a development plan for the women to increase their confidence and potential, the female ANP division were encouraged to attend women's council meetings, helping the police officers to integrate with the public, to listen to their concerns and fears and gain their confidence.
Project and Programme Management Award
The Air Command and Control Programme Management Team (Defence Equipment & Support) has been nominated for their project management and commercial techniques used to procure a new, wind-farm-tolerant air surveillance radar - a project which has unlocked the potential for £7bn worth of renewable energy investment. Not only has the project received acclaim from the Secretary of State for Defence, but the Secretary of State for the Department of Energy and Climate Change (DECC) wrote that this 'was an excellent example of collaborative working between our departments'.
Procurement Award
Public Sector organisations working together on the Pan-Government Energy Project (Defence Equipment & Support). Colleagues from the MOD, the Office of Government Commerce, the Department for Work and Pensions and DECC (among others) have been nominated for their work on the Pan-Government Energy Project. Public sector procurement professionals representing central government and devolved authorities jointly developed a plan to introduce contracting strategies for electricity and gas that adopt best practice in energy purchasing. The project has delivered £139m in benefits in 2008/09 and £335m in 2009/10, exceeding forecasts and helping Departments to achieve Comprehensive Spending Review targets.
Public Value Award
Apache helicopter 600-hour Depth Service Interval and 300-hour Forward Service (Defence Equipment & Support). Using personal knowledge and experience, along with evidence gathered by several trials, the team identified which aspects of the 300-hour depth service required by Apache helicopters were absolutely critical, and what aspects could be moved to the 600-hour service interval without prejudicing airworthiness. This then meant that the revised 300-hour service could be conducted in theatre, with a revised 600-hour service being conducted on the Apache helicopter's return to the UK. This has produced direct financial savings of £3.2m in year one, £4.2m in year two and £4.4m in year three.
Innovation Award
Low Visibility Landing Research Team (Defence Science and Technology Laboratory [Dstl]). Dstl has led the technical development of a pioneering approach to the problem of helicopter brownout - a significant safety hazard in Afghanistan that has been a factor in 24 incidents since 2006. Brownout occurs when a pilot loses visual references due to dust or sand recirculation during take-off or landing; a major problem in desert conditions. This can present potentially life-threatening issues when evacuating troops and casualties from the battlefield.
Working in conjunction with AgustaWestland, Dstl analysed incidents, conducted a rapid technology assessment and led a programme to mature the most promising technology - 3D conformal symbology. Presented on a helmet, this innovative approach provides a virtual 3D representation of the landing zone that stays fixed to the earth as the pilot approaches. This gives the pilot all the relevant information needed to judge the speed and drift to replace the real-world cues obscured by dust.
The Dstl/industry team conducted groundbreaking flight trials that demonstrated the feasibility of 3D conformal symbology. Once follow-on development work has been completed, it is likely that the technology will be brought into service in late 2012. The technology is already attracting international interest (e.g. from the Canadian Department of Defense).
Sustainability Award
Property Management Team (Met Office). The Met Office's headquarters is home to two large 'supercomputers' which deliver trillions of calculations per second that enable us to lead the world in weather forecasting and climate services. These machines generate a huge amount of heat and need to be cooled. To do this in the most energy efficient manner, and thereby reducing CO2 emissions and energy costs, the Property Management Team investigated alternatives to the traditional air-cooled systems and selected an evaporative cooling system as the ideal solution. Based on estimated annual savings of £99,733 and energy reductions of 1,460,666kWh and associated reductions in CO2 emissions, DECC agreed to fund the project. The estimated and continuing realised reductions in both energy consumption and CO2 emissions will contribute to the Sustainable Development in Government target of reducing greenhouse gas emissions by 34 per cent by 2020.
Those who have been shortlisted will be invited to the awards ceremony being held at Buckingham Palace on 11 November 2010.
Published 22 September 2010