News story
Defence People Innovation Challenge Launch Event
The Defence People Innovation Challenge launch event took place in London on the 27 March 2018, to seek innovative solutions on how we manage our people, both military and civilian.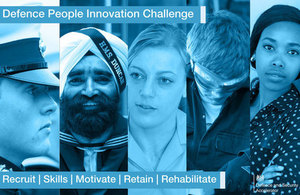 The Defence People Innovation Challenge officially launched on the 27 March 2018 at a Defence and Security Accelerator (DASA) launch event in London.
Suppliers were invited to attend the event and submit ideas which are focused on the five sub-challenges; Recruitment, Skills and Training, Retention, Motivation and Rehabilitation, as outlined in the competition summary document.
View the Morning presentation slides (PDF, 2.49MB, 67 pages) .
View the Afternoon presentation slides (PDF, 2.83MB, 52 pages) .
People are central to Defence. We employ 195,520 full time military and civilians and 32,240 Part Time Reserves (as at 1 January 2018). We rely on the skills, commitment and professionalism of our people and place heavy demands on them. Recruiting, training and retaining the right mix of capable and motivated people is essential to success both on operations and at home.
Spending on People accounted for around 30% out of £36 billion Defence spending in 2016-17. Defence must continually keep its costs and activities under review to ensure that the best result is achieved with the resources available. This includes exploring all opportunities to consider how to improve the efficiency and effectiveness of our people and the supporting processes, behaviours and cultures.
The Defence People Innovation Challenge is intended to pull through innovative thinking from the private sector to help both address the challenges and consider how to integrate and exploit the benefits within current Defence structures.
Up to £3 million is available for this challenge in the first year with further funding available in future years.
The competition closes at midday on Wednesday 16 May 2018.
If you have any queries on how to enter this competition, please email the DASA inbox accelerator@dstl.gov.uk.
Published 13 March 2018
Last updated 4 April 2018
+ show all updates
Presentation slides now added.
First published.