Defence Minister visits Dalgety Bay to hear concerns of local community
Mr Robathan met with and listened to the concerns of representatives from the Scottish Environment Protection Agency (SEPA), the local community…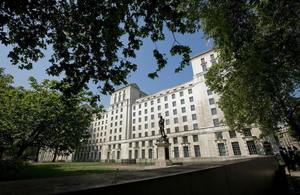 Mr Robathan met with and listened to the concerns of representatives from the Scottish Environment Protection Agency (SEPA), the local community and Fife Council.
He said:
I fully understand the concerns which people here have expressed at the discovery of radioactive particles in Dalgety Bay. My visit has afforded me the opportunity to walk the beach here and see for myself where these particles have been found.

I have learned of the measures put in place to mitigate the possible risk to public health and welcome the fact that these remain under constant review.

We welcome the establishment of the independent expert group by SEPA and will - together with SEPA - work to assist that group in assessing the residual risks and determining the scope of any necessary remedial action.
Since new discoveries were made over the last few months the MOD has increased its efforts to assist SEPA in investigating the problem and reach agreement on the way forward.
The MOD is now undertaking a three-year programme of monitoring and removal of radioactive items from the beach.
In addition, the Department is currently working in consultation with SEPA to develop a credible investigation plan. A decision on future plans, agreed by all parties, is expected in the next few weeks.
In the past, the MOD voluntarily supported SEPA's 2008 investigation works and continues to provide ongoing voluntary support for SEPA's recent 2011 headland investigation through receipt, storage and ultimate disposal of radioactive material arising from their survey and recovery work.
The MOD has to date spent around £750,000, including intervention works undertaken within the housing estate next to the beach following concerns raised.
Mr Robathan reaffirmed the seriousness with which the MOD takes this situation and assured all those with an interest that the Government and the MOD will continue to work with partners to find a solution to the issues in Dalgety Bay.
Published 2 February 2012