Defence Minister meets Army's next generation
The Minister for Defence Personnel, Welfare and Veterans, Andrew Robathan, has inspected the next generation of soldiers at a passing out parade at the Army Training Regiment (ATR) Bassingbourn.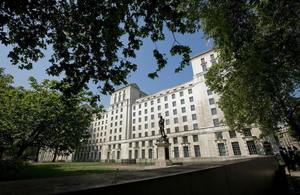 Over 100 soldiers marched onto the parade square in front of hundreds of family and friends having completed Phase One of basic training. The course combines vocational education and military training.
The soldiers, from Cambrai, Somme and Ypres platoons, marched onto the parade square led by the Band of the King's Division.
The Minister for Defence Personnel, Welfare and Veterans inspected the soldiers and presented a series of awards, including the Corps of Royal Engineers Trophy, which was awarded to Sapper Darragh Mayon for the best recruit joining the Royal Engineers. Trooper James Belmont was awarded the Royal Armoured Corps Trophy and Craftsman Daniel Binding was awarded the Royal Electrical and Mechanical Engineers Trophy.
The Minister then took the salute. Addressing the troops he said:
Today marks a very real achievement - the successful completion of Phase One training as each of you looks forward to the next stage of your training to be a professional soldier.
You have been stretched physically and mentally and leave with a tremendous feeling of achievement. You should feel proud of yourselves.
He went on to praise the soldiers for their standard of turn-out, drill and teamwork and told them how their training at ATR Bassingbourn was vital preparation for their Army careers. He concluded by thanking the soldiers' families for their support.
The soldiers had just returned from their week-long final exercise in Sennybridge where they practised their military skills and fieldcraft, culminating in a final demanding attack.
It was the final parade for the Commanding Officer of ATR Bassingbourn, Lieutenant Colonel Simon Waddington. He said:
It has been a pleasure to be in command of ATR Bassingbourn for the past two years. The passing out parade is a momentous landmark for each individual; it is the formal transition from recruit to soldier and I have been honoured to see 5,000 soldiers make that transition during my posting here.
I take away happy memories and I look forward to meeting many of the soldiers further on in their careers.
Following the parade, the Minister met the soldiers and their families over lunch.
Published 17 November 2010