Defence Minister discusses space security
Minister for Defence Equipment, Support and Technology Peter Luff visited RAF Fylingdales in North Yorkshire yesterday with Minister for Universities and Science David Willetts to discuss drafting a National Space Security Policy.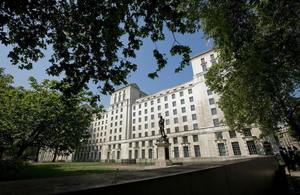 The Ministers were hosted by the Station Commander of RAF Fylingdales, Wing Commander Rayna Owens. Also accompanying them were members of the National Space Security Policy Team, part of the Cabinet Office.
In addition to experiencing first hand the importance of RAF Fylingdales, whose primary role is ballistic missile warning with the secondary role of space surveillance, the visit will help inform work that is being done to develop a National Space Security Policy.
The National Space Security Policy will seek to cover issues concerned with UK military and civil use of space.
In addition to being briefed on RAF Fylingdales operations, the visitors toured the operations room and made the most of the good weather by viewing the site from the top of the radar building.
Wing Commander Owens said:
We were honoured to host such an important visit, key to the National Space Security Policy and to the future.
Mr Luff said:
It was a pleasure to visit RAF Fylingdales today with my colleague David Willetts. RAF Fylingdales is an important part of the North Yorkshire community and is also a vital component of our national security, helping to provide an uninterrupted ballistic missile warning and space surveillance service to both the UK and the US.
This visit will be of great assistance to us as we work towards a National Space Security Policy, which will consider the challenges and opportunities for both civil and military uses of space, an area of growing importance for the UK.
Published 17 January 2012