Defence Minister confirms close relationship with the US
Minister for Defence Procurement confirms relationship during visit to Washington D.C to meet US Deputy Secretary of Defence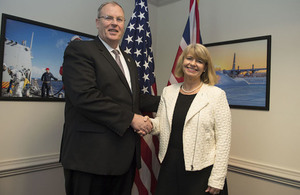 Minister for Defence Procurement Harriett Baldwin visited Washington D.C. to meet Deputy Secretary of Defence Robert Work. During her visit, she met some of the pilots testing the UK's cutting-edge aircraft, discussed global security challenges, and identified opportunities to deepen bilateral defence collaboration.
The US-UK security partnership is the broadest, deepest and most advanced of any two countries. As close allies in NATO, permanent members of the UN Security Council and leading nuclear powers, close co-operation is vital to international peace and security.
Minister for Procurement Harriett Baldwin said:
The UK's relationship with the US, our pre-eminent Ally, is at the heart of our national security. It was a pleasure to meet Deputy Secretary Work and business leaders to discuss the ways in which our two countries can continue to innovate, cooperate, and build mutual security and prosperity with defence projects like the F-35B Lightning and P-8A Maritime Patrol Aircraft.
The Minister toured the Pentagon, met Rep. Mac Thornberry, Chairman of the House Armed Services Committee, and spoke with leading thinkers in an Innovation Roundtable at the Center for Strategic and International Studies. The UK's Defence Innovation Initiative aims to create a culture that is innovative by instinct and international in scope. A key element of the Innovation Initiative is streamlining Defence's engagement with business. Harriet Baldwin met representatives of the British-American Business Association to discuss US-UK defence trade and the reduction of bureaucracy for companies in both countries.
The Minister visited NAS Pax River, where she met the British pilots who are testing the P-8A Maritime Patrol Aircaft and the jets which will fly from the UK's Queen Elizabeth Class carriers. The F-35B Lightning II is a fast jet, which combines advanced stealth capabilities with fighter speed and agility. The fifth generation jets are the most advanced aircraft ever built for the UK and are symbolic of US-UK joint operations.
Published 30 September 2016