Defence fire crews assist at major blaze
Fire crews from the Defence Fire Risk Management Organisation (DFRMO) have lent their support to tackling a major fire at a vehicle scrapyard and metal recycling facility in Royal Wootton Bassett on 5 July 2012.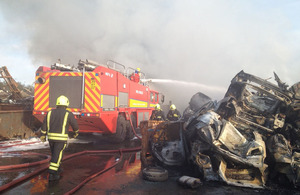 Wiltshire Fire and Rescue Service (FRS) had eight pumping appliances, an Aerial Ladder Platform and two water carriers in attendance but were unable to stop the fire's spread due to a number of conditions, including limited water supplies.
It was an unusually hot day, and the firefighters on scene were working extremely hard in arduous conditions. One firefighter was taken to hospital with heat exhaustion and later released.
By coincidence, Temporary Assistant Chief Officer (T/ACO) Joel Gray of DFRMO was passing the scene and liaised with the Wiltshire Incident Commander to ask if any DFRMO resources would be of assistance. He was told that an Airfield Major Foam Vehicle (MFV) would greatly assist with the application of foam and any assistance with additional water supplies would also be very much appreciated.
T/ACO Gray contacted his Area Manager, Barry Scott, who was at the Royal International Air Tattoo taking place at RAF Fairford. He confirmed he could release one MFV and personnel from the DFRMO crews on standby to support the air show. He also said that the RAF Fairford Fire Department was able to respond with its P-26 Water Carrier, which can hold over 15,000 litres of water.
The crews were mobilised from RAF Fairford and were on scene, assisting with firefighting operations within 45 minutes.
The DFRMO resources remained on scene for several hours and made a significant impact on firefighting operations, for which the Wiltshire Fire and Rescue Service was very appreciative.
T/ACO Joel Gray said:
This was an excellent opportunity for Fire and Rescue Service interoperability.
The DFRMO crews acted with extreme professionalism throughout, where their practical firefighting skills and excellent 'firemanship' was demonstrated to, and appreciated by, our Local Authority colleagues.
Assistant Chief Officer Chris Hartrick of Wiltshire Fire and Rescue Service has since written to the DFRMO Chief Fire Officer expressing his gratitude for the DFRMO resources provided in helping to resolve the incident stating.
The use of your bulk water and foam supplies undoubtedly had a significant impact in helping to extinguish this fire, at what became a protracted incident.
At its height, around 40 firefighters tackled the blaze, in which at least five-hundred cars and thousands of tyres were destroyed. The fire was finally extinguished over three days after it started.