News story
Defence cyber test launched
The Ministry of Defence has created a bespoke test designed to identify military personnel with an aptitude for cyber work.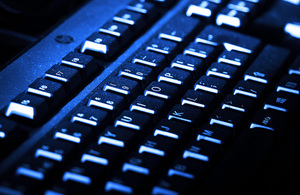 The Defence Cyber Aptitude Test, or DCAT, has been produced in collaboration with IBM. It aims to seek out armed forces personnel who have a particular skill for cyber work.
DCAT enhances the existing selection measures for personnel already serving who hope to get posted to a cyber unit in the future.
The test itself comprises a number of sections and tests an individual's abilities across a range of cognitive challenges - prior technical knowledge is not measured. The DCAT is being rolled out across UK defence for use at the early stages of technical training and service careers.
Project lead for cyber test Major Harry Porteous said:
It's a useful tool for service career and branch managers to help identify individuals with natural talent and the right skills to succeed at the cutting edge of defence cyber operations.
Published 22 June 2016