Defence Chief praises UK Forces on Libya mission
During a visit to 906 Expeditionary Air Wing, based at Gioia del Colle air base in southern Italy, General Richards took the opportunity to …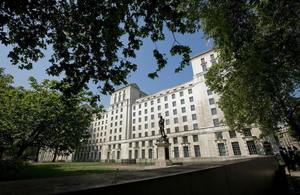 During a visit to 906 Expeditionary Air Wing, based at Gioia del Colle air base in southern Italy, General Richards took the opportunity to address the personnel who have been executing Tornado and Typhoon operations over Libya since March. He said:
I have to say that I am in awe over what the Royal Air Force has done. I'll never forget that feeling of pride and I haven't lost it yet hearing about what you are all doing and the way you have developed this capability.

This is a big, huge, very successful air effort and it's very important that you know that. So thank you very much indeed and thank you for learning on the job and delivering a capability that goes from strength to strength, because you have the ingenuity to push the boundaries.
Although the majority of RAF personnel supporting Operation ELLAMY are based at Gioia del Colle air base, the General also paid homage to the servicemen and women operating the VC10 air-to-air refueling aircraft, the E-3D Sentry Airborne Warning and Control System (AWACS), and the Sentinel R1, which have been flying from bases in Sicily and Cyprus since March.
General Richards also thanked Royal Navy and Army personnel who have been working alongside the Royal Air Force providing vital logistic and specialist support functions:
I know there are some Army here, including my own dear Gurkhas, and it's great to see you here because this is not just an air effort," he said.

The Royal Navy has been absolutely critical to the overall success of the operation and I will be telling the First Sea Lord how grateful we all are for that, and you deserve huge credit for that too. But ultimately, at the end of the day, the eyes of the world are on the air effort, but I do know this is a tri-Service operation.
The operation in Libya has seen NATO coalition aircraft carry out over 23,000 sorties in support of UN Security Council Resolution 1973.
Published 20 September 2011