World news story
Defence Attache receives award
Defence Attaché in Albania, Lieutenant Colonel Philip Osment received an award "For Distinguished Services" from the Albanian Ministry of Defence, at the end of his mission in Albania.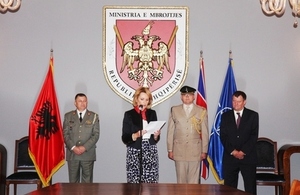 The Albanian Mnister of Defence Kodheli praised Lieutenant Colonel Philip Osment for his contribution in strengthening bilateral defence relations. She said that "today we are gathered, to appraise the performance and excellent contribution of Lieutenant Colonel Philip Osment, to strengthen cooperation between the two Armed Forces, in particular through joint exercises, which I think are of fundamental importance for improving interoperability as NATO allies."
Further, Minister Kodheli expressed confidence that through close work between Albania and the United Kingdom we will enable further strengthening and expansion of relations in the field of defence. She expressed a special thanks to the UK's ambassador in Tirana, Nicholas Cannon, for his commitment, dedication and lasting interest in support of military cooperation between the United Kingdom and Albania.
The British Ambassador Nicholas Cannon, and the Albanian Chief of the General Staff of the Armed Forces, Major General Xhemal Gjunkshi, also attended the award ceremony.
The Albanian Minister of Defence, Mrs. Mimi Kodheli, welcomed the new Defence Attaché of United Kingdom, Lieutenant Richard Perry.
Published 9 October 2013