Defence and Foreign Secretaries hold discussions with their Polish counterparts
Secretary of State for Defence, Dr Liam Fox, and Foreign Secretary William Hague met with their Polish counterparts today, Defence Minister Bogdan Klich and Foreign Minister Radoslaw Sikorski, to discuss Britain's enduring relationship with Poland.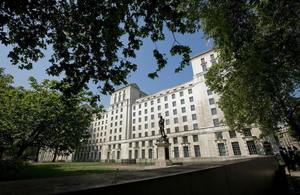 Their talks covered a number of areas of mutual interest including the defence industrial sector, NATO reform and the ISAF mission in Afghanistan.
The meeting follows a successful visit to the international defence industry exhibition in Poland during the summer by Gerald Howarth, Minister for International Security Strategy.
Speaking after his meeting with Mr Klich, Dr Fox said:
Poland is a close ally of the UK, and is a key player in the Afghan mission and in NATO. They have made a huge contribution to the ISAF mission; another chapter in the proud tradition of the British and Polish militaries working side by side, especially poignant in this the year of the 70th anniversary of the Battle of Britain.
I welcomed the opportunity to speak with Mr Klich about Afghanistan and we both agree on the importance of a continued military and civilian effort there.

Development of the Afghan National Security Forces is fundamental to delivering transition in Afghanistan, leading to the eventual drawdown of ISAF forces. Mr Klich and I discussed the genuine progress we have seen being made on our respective visits to the country.
There are more than 2,600 Polish troops in Afghanistan who provide security and development for the Afghan people.
In addition to their combat role, the Polish Armed Forces are heavily involved with training the Afghan National Security Forces. They currently contribute 16 Operational Mentoring and Liaison Teams in the country.
Published 21 October 2010