Defence 2010: A Year in Pictures
For the run-up to Christmas, the MOD online news team has once again picked out the images that best represent our defence news coverage over the past year.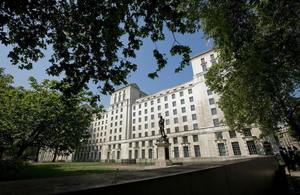 A different image will be posted here each day until 24 December 2010.
Most of the featured photographs were taken by Service or MOD photographers between November 2009 and November 2010, and relate to events and activities involving UK Armed Forces or the Ministry of Defence during the year.
Picture 24: Rifleman Adrian Robinson is reunited with son, Liam, following duty in Afghanistan. Rifleman Robinson returned to Edinburgh from Afghanistan with his unit 3 RIFLES in the spring. 3 RIFLES spent six hard months fighting the Taliban in Sangin. Mark Owens, a civilian photographer at HQ 2 Division in Edinburgh, recalls taking this picture: "I spotted the lad's sweatshirt and knew this was the shot I wanted. I was able to capture their lovely interaction."
See the Gallery at Related News for the previous pictures.
Picture 23: Military working dogs and their civilian police counterparts patrolling the City of London [Picture: Corporal Jennie Blunden, Crown Copyright/MOD 2010]
Two RAF air dogs who served in Afghanistan went on patrol with the City of London Police Dog Unit in October 2010 so that the two forces could learn from each other's experiences. The City of London Police Dog Unit continues a proud history that began 122 years ago in September 1888, when police first attempted to use dogs to aid them in the detection of crime and the apprehension of criminals. RAF Police dogs provide an essential force protection component to military operations worldwide. Since 1945, RAF Police dogs have been employed in the protection of airfields and military assets, the recovery of evidence, public order, the detection of drugs and anti-terrorist operations. On an operational front, RAF Police dogs have served or are currently serving in Singapore, Aden, Hong Kong, Northern Ireland, the Falkland Islands, Bosnia, Kosovo, Gibraltar, Cyprus, Kuwait, Saudi Arabia, Iraq and Afghanistan.
Picture 22: Soldiers from 17 Port and Maritime Regiment, Royal Logistic Corps, unloading supplies of beans, rice and ready to eat meals at the remote town of Gonaives [Picture: LA(Phot) Pete Smith, Crown Copyright/MOD 2010]
RFA Largs Bay delivered aid to the earthquake hit country of Haiti in the Caribbean in March 2010. Members of the Royal Fleet Auxiliary, Royal Navy, Royal Marines and Royal Logistic Corps embarked on the ship with supplies and equipment provided by the Department for International Development, British and International charities as well as goods purchased with donations from the British public.
Picture 21: Lance Corporal Chris Emberson and Pip search beneath a flatbed lorry in Lashkar Gah [Picture: Cpl Steve Wood RLC, Crown Copyright/MOD 2009]
Dogs and their handlers from 104 Military Working Dog Squadron played a vital role in Afghanistan this year carrying out tasks that included patrolling the bases where fellow British soldiers are based, searching vehicles at checkpoints and going out on patrols on the front line to search for weapons, ammunition and explosives.
Picture 20: A soldier is pulled to work at the Army's Headquarters Land Forces in Wiltshire by his Siberian Huskies, Molly, Zia, Nikita and Ash [Picture: Corporal Steve Wood, Crown Copyright/MOD 2010]
Military personnel came to the assistance of civilian authorities and members of the British public who were affected by severe weather conditions across the country in January 2010. In southern England, very large snowfalls had particularly affected the Home Counties and military units undertook numerous tasks to assist people coping with the weather.
Picture 19: A soldier from 1st Battalion The Royal Regiment of Fusiliers stands to attention as the coffin of the last First World War soldier to be found at Pheasant Wood arrives at the new cemetery at Fromelles in northern France [Picture: POA(Phot) Mez Merrill, Crown Copyright/MOD 2010]
The last of 250 World War One soldiers killed in the Battle of Fromelles was laid to rest in a ceremony this summer at the first Commonwealth War Graves Commission cemetery built in Europe for 50 years. The new cemetery, built near the site of the battle in northern France, was dedicated in the ceremony by His Royal Highness The Prince of Wales. The soldiers were discovered in mass graves, and the ceremony, on the 94th anniversary of the battle, marks the end of a two-year project to give them a fitting final place of rest.
Picture 18: Harrier GR9 jets conduct a two-ship flypast of HMS Ark Royal [Picture: POA(Phot) Ray Jones, Crown Copyright/MOD 2010]
Harrier GR9 jets took off from HMS Ark Royal for the very last time in November 2010. Both Joint Force Harrier and the Royal Navy's flagship are now in the process of being decommissioned following the Strategic Defence and Security Review. The aircraft pictured here were from Joint Force Harrier, based at RAF Cottesmore, the home of the Harriers belonging to 1 (Fighter) Squadron and 800 Naval Air Squadron (NAS). Departing the ship in one wave of four aircraft, the launch was led by Captain Mike Carty, Royal Marines, followed by Lieutenant Matt Fooks-Bale, Royal Navy, and Flight Lieutenant Em Rickards before Lieutenant Commander James Blackmore's historic final launch. After the launch, the four aircraft conducted a two-ship flypast, each squadron flying low past the port side of the ship before conducting a final fighter exercise controlled by 849 NAS' Sea King Mk7 helicopter, prior to returning to RAF Cottesmore.
Picture 17: Lance Corporal Billy Pym, a dive store technician from Essex, with the penguins of Edinburgh Zoo [Picture: Mark Owens, Crown Copyright/MOD 2010]
Edinburgh Zoo's penguin colony welcomed some unusual swimming partners in November when they were joined by a group of professional divers from the British Army. Two officers and 12 non-commissioned officers and sappers from 39 Engineer Regiment spent four days with the penguins to conduct a specialised survey of the zoo's 18-year-old penguin pool. Using self-contained and surface supply military diving equipment, the divers carried out a detailed survey with a hand-held camera to log the condition of the pool and identify any problem areas.
Picture 16: Prince William (right) chats to Lance Corporal Lloyd Allan during his visit for the opening of the new gym and pool rehabilitation complex at Headley Court in June [Picture: Corporal Dylan Browne, Crown Copyright/MOD 2010]
Prince William attended the opening ceremony of the new gym and pool rehabilitation complex at the Defence Medical Rehabilitation Centre (DMRC) at Headley Court in June. The multi-million pound complex was part-funded by £8m raised by the charity Help for Heroes, with the remainder provided by the Ministry of Defence. The construction of the new complex was managed by Defence Estates. The DMRC has been the premier facility for the rehabilitation of injured Service personnel since the Second World War.
Picture 15: A Spitfire from the Royal Air Force Battle of Britain Memorial Flight with a 3 Squadron Typhoon in formation over Lincolnshire [Picture: Sergeant Pete Mobbs, Crown Copyright/MOD 2010]
On 15 September 2010 the 70th anniversary of the day which saw the peak air activity of the Battle of Britain was marked. Pictured here is a Spitfire from the Royal Air Force Battle of Britain Memorial Flight with a 3 Squadron Typhoon in formation over Lincolnshire, celebrating the strong link between the heritage of the Royal Air Force and the present platform of air power that embraces the cutting-edge technology that is the Typhoon.
Picture 14: Royal Marines from D Company, 40 Commando, greet a local boy in Sangin, Helmand province, during a joint operation to clear insurgents from a Taliban stronghold [Picture: Sarah Yuen, Crown Copyright/MOD 2010]
40 Commando Royal Marines took responsibility for and command of the Sangin area of operations in April 2010. Their final mission was a massive vehicle operation deep into insurgent-influenced areas to the east of Sangin in the arid and inhospitable desert. This operation, GHARTSE SURLANDAY, involved Bravo and Delta Companies working intricately with the Afghan National Army's 'Tiger Team' to interact with local nationals while concurrently disrupting insurgent activities. 40 Commando was the last Britsh unit to be responsible for security in the Sangin area. They handed over to American troops in September so that UK forces could focus their efforts in central Helmand.
Picture 13: HMS Portland passing the Nordenskjold Glacier in South Georgia [Picture: LA(Phot) Ian Simpson, Crown Copyright/MOD 2010]
During a visit to the island of South Georgia in August this year HMS Portland came across some formidable scenery - including the mighty Nordenskjold Glacier. The encounter came as the Type 23 frigate went on an exploratory tour from the Falkland Islands, where Portland was based on South Atlantic patrol. She sailed from East Cove Military Port, her traditional port in the Falklands, to carry out her remit to protect, reassure and defend the South Atlantic overseas territories.
Picture 12: Bereaved Service family members at Whitby Youth Hostel during a FAB-organised activity break [Picture: Sergeant Ian Forsyth, Crown Copyright/MOD 2010]
Families' Activity Breaks are now in their second year. Their aim is to help Service families as they cope with bereavement following the death of a loved one. The scheme is the brainchild of Major Belinda Forsyth, a Royal Military Police Officer, who was asked to create a holiday scheme for bereaved Service families by the Army Widows' Association while working at the Directorate of Personal Services (Army). Pictured are Service family members during the FAB holiday in Whitby this summer. The project has now grown to offer four holiday locations - as well as Whitby, familes can choose from the Cairngorms in the Scottish Highlands, Coverack in Cornwall, and Conwy in Wales.
Picture 11: Captain Anthony Clark-Jones observes Afghan National Army recruits at the Shorabak training wing of Camp Bastion [Picture: Corporal Lynny Cash, Crown Copyright/MOD 2010]
Every two weeks, groups of up to 600 Afghan National Army recruits arrive at Camp Bastion. All will have completed basic infantry training at the Kabul Military Training Centre. In the Shorabak training wing of Camp Bastion, British mentors and Afghan instructors add the final touches, preparing the Afghan recruits for combat. Captain Clark-Jones was deployed to Helmand earlier this year with The Royal Scots Borderers, 1st Battalion The Royal Regiment of Scotland, Operational Mentoring and Liaison Team. Establishing training discipline was an early goal for the British team. Training sessions had been haphazard until the team devised a timetable that began at 0800hrs and went through to midday with a couple of breaks.
Picture 10: Aircraftman George the goat on parade at RAF Halton [Picture: Crown Copyright/MOD 2010]
Aircraftman George is a two-year-old Golden Guernsey-Boer goat who made his first appearance as the mascot of the Recruit Training Squadron at RAF Halton in August 2010. The Recruit Training Squadron has adopted George as their mascot and he will feature in future parades and public engagement ceremonies for the station. The history behind having goats as mascots at RAF Halton dates back to World War Two when the Royal Welch Fusiliers left their goat Lewis with the RAF Apprentices when they were sent to the front.
Picture 9: Members of The King's Troop Royal Horse Artillery conduct Her Majesty The Queen's Life Guard duties at Horse Guards Parade [Picture: Sergeant Dan Harmer, Crown Copyright/MOD 2010]
In August, soldiers of The King's Troop Royal Horse Artillery conducted Her Majesty The Queen's Life Guard duties at Horse Guards while the Household Cavalry Mounted Regiment took its summer leave. The King's Troop rode to Horse Guards Parade daily from its St John's Wood Barracks in North London. The magnificently turned-out, colour-matched light bay through to black horses replaced the Household Cavalry's traditional black horses on the daily twenty-minute guard change ceremony.
Picture 8: Senior Aircraftman Joe Lyon dives over the try line on the rugby pitch at RAF Coningsby. This image was awarded third place in the sports category of this year's RAF Photographic Awards [Picture: SAC Andy Seaward, Crown Copyright/MOD 2010]
This picture of Senior Aircraftman (SAC) Joe Lyon was taken by SAC Andy Seaward from RAF Coningsby and gained third place in the sports category of the 21st annual RAF Photographic Awards, held at the RAF Club in Piccadilly in October 2010. SAC Seaward also won first place in the portrait category.
Picture 7: Senior Aircraftman Ryan Grimes guides a pallet of aid for Pakistan as it is loaded onto a C-17 aircraft [Picture: Corporal Ashley Keates RAF, Crown Copyright/MOD 2010]
In August the Department for International Development (DFID) called in the Royal Air Force to assist with the flood relief effort in Pakistan. The RAF sent C-17 transport planes which delivered several thousand items including tents from a DFID store in Dubai. The RAF delievered the supplies to Islamabad, from where they were driven to the Peshawar region of Pakistan to help provide shelter for at least 2,500 people driven out of their homes by the flooding, said by some to be the worst Pakistan had ever seen.
Picture 6: Soldiers from the Counter-IED Task Force clearing the route to Sayedabad during Day 3 of Op TOR SHEZADA [Picture: Crown Copyright/MOD 2010]
Op TOR SHEZADA (Black Prince) was launched in August 2010 to clear insurgents from the area around Sayedabad to the south of Nad 'Ali in Helmand province, and prevent its use as a base from which to launch attacks. Soldiers from 1st Battalion The Duke of Lancaster's Regiment worked jointly with the Afghan National Army and 1st Battalion The Royal Regiment of Scotland to push out and clear villages surrounding the town of Sayedabad, the last remaining foothold for insurgents in the area.
Picture 5: Fusilier Shaun Stocker receives his Operational Service Medal from Her Majesty The Queen [Picture: Chris Barker, Crown Copyright/MOD 2010]
Her Majesty The Queen presented medals to soldiers of 1st Battalion The Royal Welsh following their operational tour of Afghanistan. 1st Battalion The Royal Welsh deployed to Afghanistan in December 2009 and returned to the UK in May 2010 having had a central role in several high profile operations, notably Operation MOSHTARAK.
Picture 4: His Royal Highness Prince William of Wales lays a wreath at the Camp Bastion Memorial during a special visit to British forces in Helmand province [Picture: Corporal Mark Webster, Crown Copyright/MOD 2010]
Prince William visited British troops in Afghanistan on 14 November, joining them for a Remembrance Sunday service during which he laid a wreath in memory of the fallen. The Royal British Legion made the theme of this year's Poppy Appeal the 'Afghan generation' of the Armed Forces and their families. Prince William writing at the time of Remembrance Day said: "The country is as fervent today in its support for our Armed Forces and the sacrifices that they make as it has ever been. The awareness of what young men and women are doing for us in the most extreme and hostile environments imaginable is striking and moving. I find this remarkable and, frankly, humbling…"
Picture 3: Royal Marines board and search a Somalian pirate vessel [Picture: LA(Phot) A J MacLeod, Crown Copyright/MOD 2010]
RFA Fort Victoria was alerted to a suspicious vessel in the area of her patrol of the waters between the Somali coast and the Seychelles as part of NATO's counter-piracy mission, Operation OCEAN SHIELD.
Picture 2: A Chinook helicopter bringing ramps and decking for a bridge during Operation MOSHTARAK [Picture: Lieutenant Colonel Matt Bazeley, Crown Copyright/MOD 2010]
This picture, taken by Lieutenant Colonel Matt Bazeley, Commanding Officer of 28 Engineer Regiment, is from Day 4 of Operation MOSHTARAK while the Manoeuvre Support Group were advancing south to link up with the Royal Welsh who had air assaulted into Loy Adera four days earlier. The Manoeuvre Support Group arrived at this stream, and, not having a bridge suitable, Lt Col Bazeley asked for a five-bay medium girder bridge to be constructed at Camp Bastion and flown forward, pre-constructed, underslung beneath a Chinook helicopter. This image shows the first Chinook bringing in the ramps and decking for the bridge which arrived shortly after.
Picture 1: 'Hello Sailor!' - Naval Airman (Survival Equipment) Adam Bland showing his excitement to be part of Exercise Glen Mallen at the top of HMS Ark Royal's flight deck ramp [Picture: LA(Phot) Gregg Macready, Crown Copyright/MOD 2010]
The annual Royal Navy Photographic Competition, 'The Peregrine Trophy', took place at Mercedes-Benz World, Weybridge, Surrey, on 15 July 2010. Leading Airman (Photographer) Gregg Macready was the winner of the 'Life Without Limits Award' which is awarded for the best photograph of a member of the Royal Navy or Royal Marines undertaking their duties, training, or on exercises or operations.
Published 24 December 2010