"Deep and longstanding friendship" with Malawi
Foreign Office Minister Henry Bellingham has praised the friendship between Britain and Malawi on a recent visit to the country.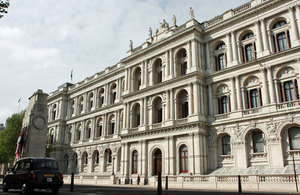 Mr Bellingham travelled to Malawi on 15-17 July and held meetings with President Joyce Banda and senior figures from the private sector.
The Foreign Office Minister is the second British minister to visit the country since President Banda assumed office exactly 100 days ago.
Following their meeting, Mr Bellingham said there was a "deep and longstanding friendship between the people of Britain and Malawi" and stressed the commitment to continuing and developing the relationship in the interests of both countries.
He also announced up to £25 million of additional support to help Malawi successfully implement economic reforms bringing UK support to Malawi to £58 million since April 2012.
International Development Secretary Andrew Mitchell visited Malawi earlier this year. The Department for International Development provides support to Malawi each year to help implement the Malawi Growth and Development Strategy.
Before visiting Malawi, Mr Bellingham attended the African Union Summit in Addis Ababa.
Published 17 July 2012