News story
Decommissioning milestone at Oldbury nuclear site in Gloucestershire
Decommissioning of the former used fuel cooling ponds at Oldbury site has reached a major milestone.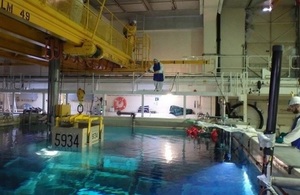 A total of 109 low level waste skips, the containers which were used to hold fuel elements once they had been removed from the reactor, have now been safely taken out of the ponds; processed and packaged for storage.
It marks a significant step along the journey to fully decommissioning the cooling ponds.
Work at the site will now focus on removing the pond furniture and remaining skips, which are currently storing other components, before the end of the year.
This will be followed by draining of the pond water and stabilsation of the surfaces, due to take place in 2018.
Rob Taylor, Magnox Ltd Ponds Campaign Manager at Oldbury, said:
The work was completed in challenging conditions but was delivered ahead of schedule.

The achievement is a significant one for the site as we work towards decommissioning the facilities that once allowed it to operate, in a safe and efficient manner.
Ponds decommissioning milestone delivered at Oldbury site
Find out more about Oldbury nuclear site in South Gloucestershire
Published 26 September 2017