Press release
Decision on North Belfast parading panel
Owing to insufficient cross-community support, the Secretary of State has decided not to go ahead with setting up the panel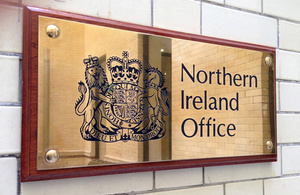 An NIO spokesperson said:
The Government remains fully committed to seeking a resolution to the situation Twaddell/Ardoyne. When we announced the Terms of Reference for a panel on parading in North Belfast, we stated that a key principle was that it must command cross community support.
The aim of the panel was mediation and dialogue, but effective mediation cannot take place without meaningful engagement from both sides. It has become apparent that there is insufficient support for the proposed panel among some of those most closely involved in the dispute. This is reflected, to varying degrees, on both sides of the community.
We have therefore decided, on balance, not to go ahead with setting up the panel. We will continue to work to see if a way can be found to help resolve the impasse at Twaddell/Ardoyne and encourage others to do the same.
This matter is not covered by the Stormont House Agreement.
Published 23 December 2014