News story
DECA: supporting MOD
The Defence Electronics and Components Agency (DECA) is an executive agency that offers support predominantly to the air domain within DE&S.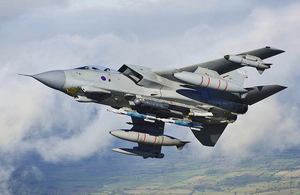 Their teams already support Tornado, Chinook and tri-service calibration equipment. The MOD is now looking for DECA to further expand their capabilities across all defence environments.
For the Tornado programme, DECA undertakes tests and repairs in over 300 items, including the ground mapping and terrain following radar, the power supply for the automatic pilot and laser designators.
In addition, the agency has provided significant savings to the MOD with "repair-not-replace" technologies, finding innovative ways of mending electronics and components, as well as reusing items that would otherwise require significant additional cost to find replacements for. For instance, Typhoon has benefited from DECA's development of specialised Fibre Optic Cable repair capability, which assesses cable damage and reduces repair needs, improving aircraft readiness.
Air Marshall Simon Bollom, Chief of Defence Materiel (Air), said: "DECA provides crucial support for a wide range of air platforms engaged on operations now and Tornado in particular. DECA's support in repairing critical electronic items ensures our aircraft are maintained to the highest standards and available for operations."
Based in North Wales, DECA formed an executive agency owned by the Ministry of Defence in April 2015. It was officially launched to the defence industry in October by Minister for Defence Procurement (MinDP) Philip Dunne. Its Agency origins go back to 2000, when it was part of the Electronics and Components Business Unit of the Defence Aviation Repair Agency, latterly the Defence Support Group. The MOD strategically retained DECA when the rest of the group was sold to Babcock, ensuring access to its capabilities and through-life specialist maintenance, repair and overhaul pedigree.
Minister for Defence Procurement Philip Dunne said: "DECA is a world leading electronic and components business and a key agency supporting the MOD. We want its capability to become the UK's avionics hub in Europe, and we are confident it has a bright future ahead, providing the MOD with highly valued skills and expertise."
As an in-house capability for the Ministry of Defence, DECA specialises in electronic and component maintenance, repair, overhaul and upgrade. It aims to deliver best value for money services that sustain the Armed Forces at home and during deployment. In addition, DECA is the MOD's hub for all tri-service calibration and repair activity, as well as offering medical and dental services, cryptographic support and general engineering activities from their satellite site at Stafford and deployed locations around the UK.
The Agency is now working with MOD and Industry to consider how DECA's capabilities can be expanded to reduce the support costs on platforms such as the Typhoon under the Future State Operating Model and the F-35 Lightning II.
DECA Chief Executive Geraint Spearing said: "The decision to retain DECA as an in-house capability has ensured the MOD access to our technical excellence. The MOD is looking to promote the full range of DECA capabilities across all Defence environments and in support of deployed operations and we look forward to working with together with customers, old and new, to ensure best value support solutions and services for Defence."
Minister for Defence Procurement Philip Dunne for Desider
Published 19 April 2016