Press release
Debate on Sri Lanka, Commonwealth Heads of Government Meeting
Speaking during a debate in Parliament Foreign Office Minister Hugo Swire stressed that Sri Lanka must maintain progress on human rights.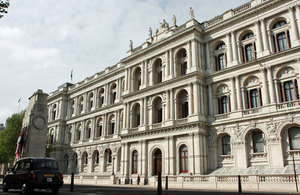 On 6 November, Hugo Swire, Minister of State for the Commonwealth, responded to a Westminster Hall Adjournment Debate on Sri Lanka and the Commonwealth Heads of Government Meeting.
Following the debate Hugo Swire said:
I welcomed the opportunity to discuss the Commonwealth Heads of Government Meeting in Sri Lanka.

I made clear that the UK will have frank discussions with Sri Lanka on all areas where they need to make further progress, such as human rights, reconciliation and political settlement, and we will urge the Government to uphold Commonwealth values as enshrined in the Commonwealth Charter – which they signed.

If we don't go to CHOGM then we can't see the situation on the ground for ourselves – we can't be part of the debate if we are not there. By going we will be able to meet people from across Sri Lanka – civil society groups, journalists, campaigners - and we will raise our concerns directly with the government.

I highlighted to the House that our commitment to the Commonwealth was an important part of our decision to attend. We will stress that the Commonwealth should take a strong stand on issues that matter to Britain and the world. We want countries to take responsibility for preventing sexual violence in conflict, to contribute to the post-2015 development framework discussions and promote Commonwealth values. The UK cannot show leadership on these issues if we are not represented at the highest level in Colombo.

Hosting CHOGM has put Sri Lanka in the international spotlight and has helped contribute to some improvements. Since 2009 its government has taken steps on resettling displaced civilians, rebuilding infrastructure, removing land mines as well as recent provincial council elections. We want to see these improvements continue as more must be done and CHOGM gives us an opportunity to press the Rajapaske government to move more quickly.
Further information
Read Foreign Secretary William Hague's article: A boycott of Sri Lanka would be wrong
Follow Foreign Office Minister Hugo Swire on twitter @HugoSwire
Follow the Foreign Office on twitter @foreignoffice
Follow the Foreign Office on facebook and Google+
Published 7 November 2013