World news story
Death Penalty in Japan: some facts and questions
Get informed with some thought-provoking facts, findings and questions from the Death Penalty in Japan report.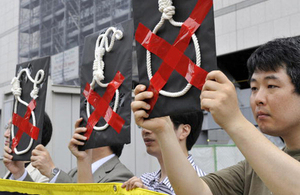 There is a global trend towards abolishing the death penalty. According to Amnesty International (an international NGO), 140 countries are 'abolitionist in law or practice' and 58 retain the death penalty.
The Japanese Government conducts surveys on public opinion on the death penalty approximately every 5 years. In the 2009 survey, '86% favoured retention', according to the Japanese Cabinet Office. However, according to the NGO 'The Death Penalty Project', 'male and younger respondents are under-represented' by the survey, meaning that 'the results published from the government survey became questionable'. Also the NGO said that 'even those who express strong support for capital punishment modify their views in response to new information'.
For example, did you know that:
'In Japan, as of 2012, 19 crimes are eligible for capital punishment, including 7 crimes that do not result in the loss of life'.
'As of January 2013, Japan had 135 inmates on death row. Four have lived in those circumstances for over 30 years'.
Japan has the longest serving death row inmate in the world. Iwao Hakamada has been on death row since 1968 (46 years). Following an unfair trial, Hakamada was convicted of the murder of his boss, his boss's wife and their two children. One of the three judges who convicted Hakamada has publicly stated he believes him to be innocent. (more information on the Amnesty International website)
Death row prisoners are kept in cruel conditions. They are kept in a 'single cell and separated from other prisoners' and 'contacts with other people are severely restricted'. Prisoners are also 'not informed of the date of their execution until shortly before it occurs (usually just an hour or two notice is given).' Because of this 'mental illness appears to be common' among these prisoners.
'The only method of execution in Japan is hanging, and Japan's government acknowledges that its method of hanging has not changed since 1873'.
The UK opposes the death penalty in all its forms.
What do you think about the information above?
What do you think about the death penalty in Japan?
Don't forget you can join the discussion by sharing your thoughts on Twitter, using the hashtags #DeathPenalty #HumanRights
Related links
The full Death Penalty in Japan report is available in English as a PDF and available in Japanese.
Published 17 January 2014