Dealing with redundant ammunition in Afghanistan
Over the next 18 months, tonnes of old bullets will be turned into 'brass' at Camp Bastion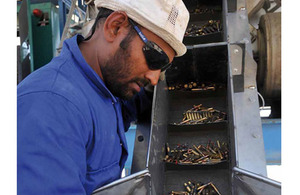 This might surprise you, but bullets go off. Or rather, like milk, fresh fruit and even back editions of Defence Focus, ammunition has a shelf life. And just as munching on a round of past its best prawn and mayonnaise sandwiches may end in an unhappy event, so putting an out-of-date round in your SA80 could spoil your day.
Not surprisingly, one of the assets that soldiers in Afghanistan cannot afford to run out of is bullets. So making sure you have more than enough immediately available is crucial. A just-in-time storage and distribution policy won't do if combat operations suddenly go 'hot'.
That's not the time to be told that the next delivery is in the pipeline and should be with you in the morning. But that means that at the end of each HERRICK there is some ammunition left over, and any unused bullets have to be disposed of responsibly:
Storing old bullets safely isn't in itself a problem," said Captain Nathan Evans of the Ammunition Plans Theatre.
Ammunition only really becomes dangerous when you put it in a gun. But eventually you have to do something with it.
But, hold on, why do bullets have a best-before-date anyway? Can't spare ammo be handed on to the next soldiers coming through, or be used for training on ranges?
We can't do that because ammo has a shelf life of just six months," explained Captain Evans.
That's because the propellant in each cartridge case degrades. And if you think about what's happening to those cartridges while they are out and about with the guys, rattling around in magazines, being loaded on and off vehicles and being exposed to the harsh environment here, getting wet, drying out again, you can see how they will deteriorate.
So ensuring the highest levels of quality assurance in small arms ammunition makes perfect sense:
It is part of our appropriate application of lethal force so we know that each bullet will go where it's being aimed and will work correctly," said Captain Evans.
Until this year the disposal method using a burns tank could only process 150kg of ammunition at a time, followed by a 12-hour period for the tank to cool down:
It was pretty labour intensive too, especially in terms of supervision," said Captain Evans.
So to solve the problem in an environmentally responsible way, after a proper tendering exercise was carried out in March this year, a two-year contract was awarded to EOD Solutions.
The incinerator brought in to do the work is essentially a large rotary kiln heated by a diesel burner.
But surely you don't just shovel the bullets in?
Well it's fairly close to doing that," said project manager Steve Turner, an ex-Army ammo technician; a precise man with 24 years, 200 days, military experience behind him.
We feed the ammo into the kiln at a controlled rate, different ammo needs to go in at different speeds so we can be sure it goes off.
Before being tipped into the hopper, the ammunition is carefully sorted through to make sure there are no nasty surprises, like a rogue hand grenade finding its way into the mix.
At this point you might be forgiven for thinking that burning off a heap of old bullets might lend a new interpretation to the phrase 'bang goes the neighbourhood', but the process is, according to Steve, entirely safe, and without drama:
The heat of the oven causes the rounds to function, but because they are not confined [the experts call it obturation] they just split apart, so when the propellant is set off, the bullets don't fly off anywhere.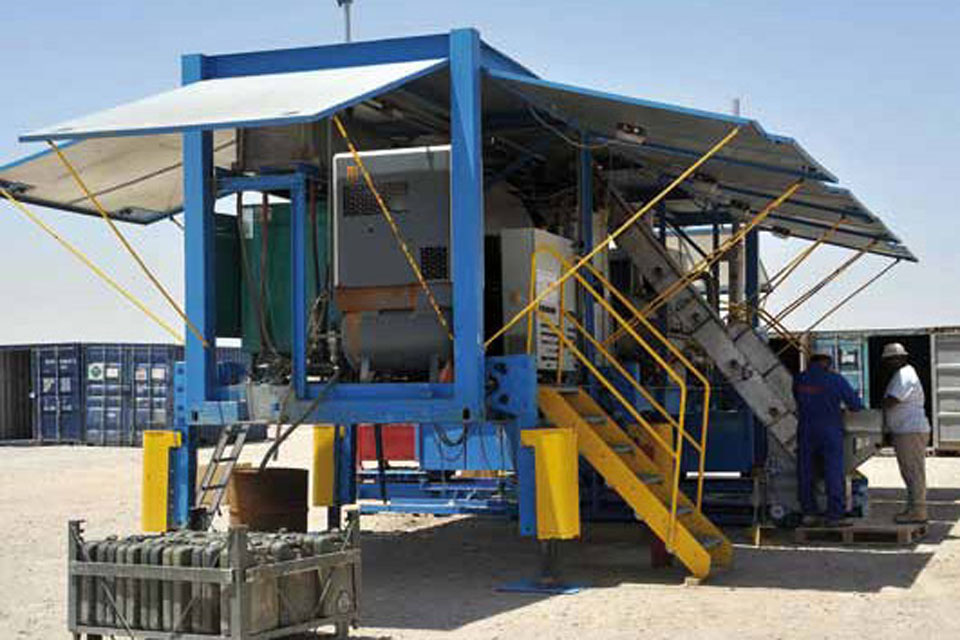 It sounds like it could be quite noisy, but in fact measurements show the sound levels are below 100 decibels - which equates to standing beside a cement mixer - or, as Steve put it:
Putting a pair of jeans in a tumble dryer having forgotten to take the small change out of your pockets.
The resultant salvage though is far from small change. Once the gases have been successfully burned off, the debris is cooled, inspected to make sure it has all functioned, and then palletted up and sent to the UK to be sold as salvage:
There's some quite valuable material in the residue such as brass, lead, copper and even antimony, which is used in armour-piercing bullets," said Captain Evans.
Value for money and responsibility are two of the guiding principles of the process. As the rounds go off in the kiln it helps to heat up the furnace so the burners automatically cut off to save money. The gases produced are sucked away and filtered so the emissions fall well within EC directives.
So, for the next 18 months or so, at a steady flow of 50 to 100 rounds at a time the machine will be running five-days-a-week, burning for about ten-hours-a-day:
It's working within its capacity with the sixth day spent on inspection, maintenance and cleaning," said Steve calmly.
After all, why get fired up over a little matter of burning off a few tonnes of bullets that have gone past their best-before-date.
Published 12 September 2012