DE putting soldiers first in Germany
Defence Estates (DE) has refurbished three Single Living Accommodation (SLA) blocks within Barker Barracks at Paderborn Garrison in Germany under the Soldier First programme.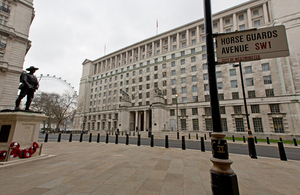 The Soldier First initiative aims to upgrade the poorest accommodation used by the Army to improve the morale and general wellbeing of its troops.
At Paderborn, soldiers from 35 Engineer Regiment, 3 Close Support Battalion Royal Electrical and Mechanical Engineers (3 CS Bn REME) and 1 Princess of Wales's Royal Regiment (PWRR) - all of whom will be deploying to Afghanistan in 2011 - are now benefiting from the programme's impact.
€371,000 (approximately £300,000) has been spent improving and redecorating the three blocks within Barker Barracks - Blocks 1,2 and 6. The work has included redecorating rooms and corridors, installing white goods, and providing bed spaces with simple comforts like improved lighting, more plug sockets and vertical blinds. All the public areas in the blocks have been fitted with sensor lights and energy saving bulbs.
Block 1, which can accommodate 168 soldiers, received a full refurbishment of all its toilets and wet areas, complete with new dividing walls. All the kitchen furniture in the block has been replaced and new fridges, microwaves, washing machines and dryers installed and fitted.
Major Andrew Roberts the Quartermaster for 35 Engineer Regiment said:
With the delay to Capital Works programme, soldiers accommodated in Block 1 were unlikely to see an improvement in their accommodation until 2018, by which time most of them would have been posted out of the regiment.
The Soldier First work has gone a long way to improve both the living conditions for the soldiers and the general ambience of what can only be described as old and tired Single Living Accommodation; the impact on the moral component of the regiment should not be underestimated.
The work was delivered on time, to a high specification, at minimum cost but, has delivered the greatest impact on the soldiers in areas that matter. This is a fantastic achievement in the current financial climate and although (some are) still living in four-man rooms, all our soldiers now enjoy equitable social and welfare facilities.
Originally used for transit accommodation, Block 2 has been converted into two and three-man rooms and the alterations have provided 1 PWRR with 45 extra bed spaces, extending its capacity to 175 soldiers.
Three completely new rooms have been built with new toilets and wet areas installed. Four new washing machines and tumble driers have been supplied and fitted. The work was completed to meet the requirements of 1 PWRR returning from operations in Afghanistan.
Block 6 has been converted from offices for the Quartermaster's department into SLA providing 28 extra bed spaces for 3 CS Bn REME. The block is a mixture of single occupancy, three-man and four-man rooms.
Each bed space is fitted with plug sockets, a telephone connection and a satellite connection. All the wet areas and toilets have been given a full deep clean and broken tiles replaced. Two sets of washing machines and tumble dryers have been installed. The block has been redecorated and all the doors replaced with fire doors.
DE Garrison Facilities Manager, Keith Gatford added:
The DE FM team are extremely pleased that we have been able to make a difference to improving the Single Living Accommodation for the soldiers in our community here in Paderborn Garrison.
The enhancements do make a difference to the soldiers especially during their periods of high operational tempo. The success of the Soldier First projects has only been achievable through the combined efforts of our DE FM staff and those of the receiving Units.
The improvements were delivered on time and to budget by DE Facilities Management Paderborn working alongside the German Construction Agency and the BLB.
Published 1 July 2010