World news story
De La Rue celebrates 200 years of doing business across the world
De La Rue celebrated its 200th anniversary with a function at the British High Commission. De La Rue has had a 153 year relationship with Jamaica.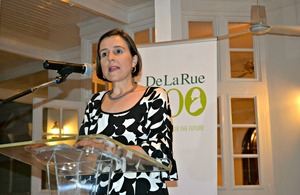 The reception was used to recognize Jamaica's contribution to De La Rue's success and to express its appreciation of what has been a 153 year old business relationship with the Jamaican public.
De La Rue has enjoyed a long-standing relationship with Jamaica, supplying the Government with a variety of high-security documents including currency, passports, voter registration cards, postage stamps and driving licences. The first business dealings can be traced as far back as 1860 with the supply of postage stamps to Jamaica ranging from one penny to one shilling, each with a different frame, inscribed "JAMAICA POSTAGE", and watermarked with a pineapple design. Today De La Rue continues to work closely with the Government of Jamaica, private sector and the University of the West Indies.
Among the attendees were Minister of National Security Hon Peter Bunting and Leader of the Opposition Andrew Holness.
De la Rue was founded by Thomas de la Rue in Guernsey in 1813 and is the world's largest integrated commercial banknote printer.
Further Information
If you wish to contact a UKTI officer in Jamaica click here. Visit us on Facebook for more pictures from the event.
Published 20 June 2013