News story
DCMS wins special award for staff engagement
Global business intelligence firm ORC International has recognised DCMS for its work leading to the most improved staff engagement.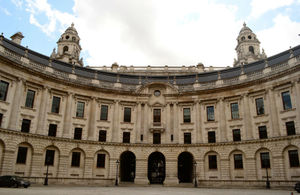 The Department for Culture, Media and Sport (DCMS) has been awarded a special international award in recognition of its outstanding achievements in raising staff engagement levels.
Global business intelligence firm ORC International, which supports the annual Civil Service employee engagement survey led by the Cabinet Office, has recognised DCMS for its work leading to the most improved staff engagement.
Sue Owen, Permanent Secretary at DCMS, said:
DCMS delivers on key government policies which drive growth, enrich lives and promote Britain to the world. So having the right staff, engaged and passionate about their work is vital.

Improving our staff engagement has been a key focus and I'm delighted our efforts have been independently recognised. It shows that DCMS is really a great place to work.
Over the past two years, the Department has focused on improving its staff engagement, which includes improving internal communications and investing in its staff. Figures from the Department's People Survey for 2015, in which 97 per cent of staff participated, shows:
DCMS achieved an engagement score of 66 per cent - amongst the highest in Whitehall departments making it is one of the most motivated organisations. This was up by six percentage points on the previous year and fifteen points over two years, the biggest rise in engagement for any government department for the second year in a row.

More than nine out of ten (92 per cent) members of staff are interested in their work.

Significant overall improvements in almost every area of staff engagement, including learning and development score (up 13 points to 54 per cent), and leadership and managing change up ten points to 59 per cent.
Seema Shah, UK Head of Employee Research at ORC International, said:
It is a real honour to celebrate DCMS with our special achievement award for most improved in employee engagement. ORC International have worked on the Civil Service People Survey since 2009, and throughout the last 7 years we have seen the changes and challenges that central government departments and agencies have faced.

It is a real inspiration to see how organisations like DCMS have been able to embed and significantly improve engagement through strong leadership and effective communication.
Notable improvements in staff engagement at DCMS include:
Increased senior visibility and openness: Following a concerted effort, the Department's executive team and senior leaders are more visible and accessible to staff. This includes frequent 'stand-up' events with the Permanent Secretary, staff from across DCMS invited to be observers at executive board meetings and Q&A at all-staff away days.

Strengthening Human Resources: Having the right HR support is vital in order for policy and delivery teams do their jobs. Through a rigorous process of resource prioritisation, the Department strengthened its HR team, creating strong HR partnerships within the business.

DCMS Academy: Joint Internal Communications and Human Resources programme to drive no-cost, peer-to-peer learning and development within DCMS, including a new digital channel to quickly and easily book on internal courses. This has led to hundreds of learning and development opportunities each year at no cost to the taxpayer.

Driving improvements in internal communications: Working as part of a fully integrated communications team, the Department has strengthened the Internal Communications team to deliver more innovative and creative communications making greater use of digital channels. Building strong internal networks has helped DCMS colleagues to deliver internal communications and create genuine two-way conversations between teams and senior managers.
Published 16 June 2016