News story
David Willetts comments on UCAS applications figures
Commenting on early UCAS 2012 applications data, Universities and Science Minister David Willetts said: "It is too early in the applications…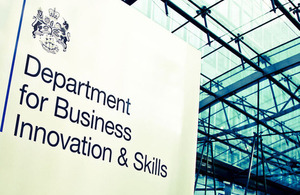 Commenting on early UCAS 2012 applications data, Universities and Science Minister David Willetts said:
"It is too early in the applications cycle for data to reveal underlying trends - the main UCAS deadline is not until January.
"Only applications for Oxbridge, medicine, veterinary science and dentistry have closed, with numbers broadly holding up on last year.
"It is important that no one is put off applying to university because they do not have information about how the new student finance system works. To ensure this message reaches all prospective students and their parents we have extended the England-wide school and college tour, with more graduates presenting and evening information sessions for parents. We are also rolling out a video that teachers can use to help give the facts.
"Going to university depends on ability not the ability to pay. Most new students will not pay upfront, there will be more financial support for those from poorer families and everyone will make lower loan repayments than they do now once they are in well paid jobs."
Notes to editors:
---
UCAS early applications data is available at http://www.ucas.ac.uk/about_us/media_enquiries/media_releases/2011/20111024.
The only courses for which applications have closed are medicine, dentistry, veterinary, and Oxbridge.
There has been demographic change, with the 18 year old cohort smaller than last year. It is not possible to obtain socioeconomic information about applicants from this data.
We have put in place a package of progressive support for students. All eligible students do not need to pay their fees upfront, as they are covered by loans which do not have to be repaid until they are earning at least £21,000 a year. Our funding package includes more maintenance for nearly all students, including a higher non-repayable grant of £3,250 for all those from households with incomes of less than £25k.
We have also introduced measures to make more progress on widening access. The National Scholarship Programme begins for those entering in 2012, and by 2014/15 it will be funded with £150 million of public money and universities will be required to contribute to the programme with their own matched funding. It will provide a benefit of at least £3000 for eligible full time students (with pro rata for part-time) and will help to improve access to higher education amongst the least well-off young people and adults.
All institutions receiving HEFCE funding which charge more than £6,000 must also agree Access Agreements with the Director of Fair Access setting out what they will do to attract students from disadvantaged backgrounds. The Office for Fair Access recently announced their decisions on Institutions' Access Agreements for 2012/13. The agreements contain Institutions plans for investment in activities to widen access, estimated to reach more than £600 million annually by 2015.
Our funding reforms include much more generous treatment for part-time learners and distance learners, who will be entitled to access the tuition fee loan system for the first time.
In May BIS launched a public information campaign for prospective students and their parents about changes to the student finance system in 2012.
£1 million is being invested in an England-wide Student Finance School and College Tour, which complements the public information campaign. Recent graduates are visiting schools to explain the 2012 changes. The Tour began in September and will run through until the UCAS application deadline in January 2012.
The Tour aims to visit over 2,300 schools, FE and sixth form colleges across England in the run up to the UCAS application deadline on 15 January 2012.
Information evenings for parents will be taking place during November and December as part of the Tour.
The student finance film being sent to schools is available on the Future Students campaign website at www.direct.gov.uk/yourfuture
BIS's online newsroom contains the latest press notices, speeches, as well as video and images for download. It also features an up to date list of BIS press office contacts. See http://www.bis.gov.uk/newsroom for more information.
Notes to Editors
Contact Information
Name BIS Press Office Job Title
Division COI Phone
Fax
Mobile
Email NDS.BIS@coi.gsi.gov.uk
Name Emma Griffiths Job Title
Division Department for Business, Innovation and Skills Phone 020 7215 5982 Fax
Mobile
Published 24 October 2011