David Willetts comments on Alan Milburn's report "University Challenge: How HE can advance social mobility"
"Improving social mobility is at the centre of the Government's social policy. Matching young people's aspiration to go into higher education…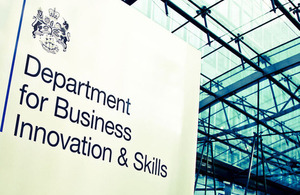 "Improving social mobility is at the centre of the Government's social policy. Matching young people's aspiration to go into higher education is key to delivering social mobility, transforming lives, and securing our nation's future. Our reforms are delivering significantly more investment in outreach, retention and financial support for disadvantaged students. The Government and universities will be spending almost £I billion a year attracting students from disadvantaged backgrounds by the end of this parliament.
"Institutions should seek to broaden access because making sure talent is spotted, not wasted, will ensure this country has the skills to grow. I welcome Alan Milburn's report and the advice it gives for universities in this area, together with the recognition of what they have already achieved. We will consider his recommendations carefully and urge universities to do so too."
**Progress so far
**To make sure the we are doing everything possible to widen participation and promote fair access BIS Ministers have written to HEFCE and OFFA (May 2012), asking them to develop a shared strategy for promoting access which maximises the impact of all the spending by Government, HEFCE and institutions.
Our expectation is that the strategy will consider how the impact of investment might be better targeted across the whole sector and the whole range of potential activity which supports widening participation, taking into account the latest available evidence here and abroad.
And OFFA has already agreed 150 access agreements for 2013/14. And those universities with access agreements plan to spend £672 million - up from just over £400 million in 2011/12 - on increasing and retaining the number of students from disadvantaged backgrounds from 2016/17.
BIS has worked closely with an expert group to develop the National Scholarship Programme. This will start this autumn with £50 million of Government funding raising to £150 million by 2014-15, with matched funding from institutions.
Our Student Finance and College Tour has visited 2,150 schools, colleges, sixth forms and academies in England, and proved a success with highly positive feedback coming through from students, their parents and teachers. 86 per cent of parents thought the tour had provided them with the information they needed to help their children make a decision about applying for university.
**Notes to editors
**1. The Government's economic policy objective is to achieve 'strong, sustainable and balanced growth that is more evenly shared across the country and between industries.' It set four ambitions in the 'Plan for Growth' (PDF 1.7MB), published at Budget 2011:
To create the most competitive tax system in the G20

To make the UK the best place in Europe to start, finance and grow a business

To encourage investment and exports as a route to a more balanced economy

To create a more educated workforce that is the most flexible in Europe.
Work is underway across Government to achieve these ambitions, including progress on more than 250 measures as part of the Growth Review. Developing an Industrial Strategy gives new impetus to this work by providing businesses, investors and the public with more clarity about the long-term direction in which the Government wants the economy to travel.
BIS's online newsroom contains the latest press notices and speeches, as well as video and images for download. It also features an up to date list of BIS press office contacts. See http://www.bis.gov.uk/newsroom for more information.
Notes to Editors
Contact Information
Name BIS Press Office Job Title
Division Department for Business, Innovation & Skills Phone
Fax
Mobile
Email bispress.releases@bis.gsi.gov.uk
Name Emma Griffiths Job Title
Division Department for Business, Innovation and Skills Phone 020 7215 5982 Fax
Mobile
Published 18 October 2012