David Lidington visits Berlin
UK Minister for Europe to call on German counterparts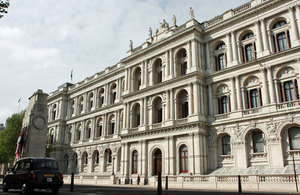 Britain's Minister for Europe, David Lidington, visited Berlin on 29 June. He held talks with his German counterpart, Werner Hoyer, at the German Foreign Ministry, before paying a visit to the Chancellery. Later, Mr Lidington participated in a roundtable discussion at the Konrad Adenauer Foundation and spoke to journalists at the British Embassy. Discussions covered the broad range of European and foreign policy challenges that both Britain and Germany face.
After visits to Berlin by the Prime Minister, Deputy Prime Minister and Foreign Secretary, the visit by the Minister for Europe further underlined Britain's commitment to work actively and constructively with Germany and play an active role in Europe.
Most of Mr Lidington's interlocutors expressed an interested in the new Coalition Government in the UK. Coalitions are common in Germany, but less so in Britain - indeed, this is the first national Coalition Government in the UK since the Second World War. The Minister was pleased to report that the Coalition Government in London was working together well. Last week, it presented its first budget, in which it set out its priorities for reducing Britain's deficit in a way that strengthens the country and rebuilds the British economy. Mr Lidington expressed his support for German measures to reduce its budget deficit.
A further issue of discussion was the Western Balkans. Mr Lidington had visited Macedonia and Kosovo on 22-24 June. The Minister stressed that both the UK and Germany wanted to see stability and rule of law in the Balkans and expressed his support for the process of European integration in the region. The UK, said Mr Lidington, will continue to champion EU enlargement.
The Minister expressed his hope that Europe can speak with one voice on foreign policy issues such as Iran and the Middle East Peace process. Europe must also continue to be a leading force in combating climate change, declared the Minister.
Minister for Europe visits Berlin
Published 29 June 2010