David Lidington visit to Denmark
Minister for Europe David Lidington visited Copenhagen on 10 March to strengthen co-operation between the UK and Denmark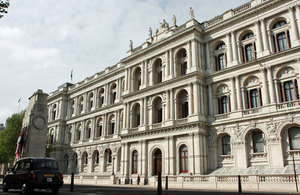 Minister for Europe David Lidington visited Copenhagen on 10 March to strengthen the close ties between the UK and Denmark, in particular as Denmark prepares for its EU Presidency in 2012.
Mr Lidington met a range of Danish Ministers and politicians, including Justice Minister Lars Barfoed and the leader of the Social Democratic Party Helle Thorning-Schmidt. He held talks with the Danish State Secretary for Foreign Affairs, Michael Zilmer-Johns covering the full range of EU issues, on which the UK and Denmark work very closely as EU partners. He also met senior Danish business representatives at the Confederation of Danish Industry, stressing the UK government's commitment to boosting trade and investment, and equally our commitment to building a low-carbon economy.
Speaking about his visit, Mr Lidington said "The UK and Denmark share a belief that the key priority for Europe is economic growth and competitiveness. That means getting the EU's budget and spending under control, it means strengthening the single market in areas such as the digital economy,green growth, a new drive on liberalisation of services; lighter touch and less burdensome regulation, and more free trade with the rest of the world. I think we'll be able to work very closely with Denmark to support a successful Danish EU Presidency".
David Lidington on Europe
Published 11 March 2011