World news story
David Lidington in Copenhagen
This was published under the 2010 to 2015 Conservative and Liberal Democrat coalition government
David Lidington MP, Minister for Europe visited Denmark on 20 - 21st March 2013 to discuss UK-Danish relations and the Future of Europe.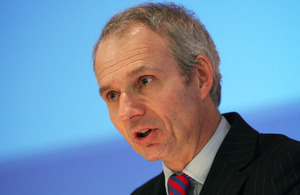 The visit focussed on further strengthening UK-Danish relations. The UK and Denmark are key partners in promoting greater competitiveness and prosperity in Europe.
During his stay in Denmark, David Lidington, Minister for Europe met with his Danish counterpart Nicolai Wammen. He also met with the Danish Parliament's European Affairs Committee and the Minister for Justice Morten Bødskov. He discussed business opportunities with Danish business leaders and he also headlined a panel debate on the Future of Europe to a 150-strong audience of commentators, academics, business people and youth political organisations and officials.
The Minister also reaffirmed the UK's commitment to Europe to a broader Danish audience via interviews with the Danish broadsheet Politiken and appearing live on the Danish 24-hours news television channel, TV2 News. David Lidington was able to tell the Danish public about the UK's position in Europe following the Prime Minister's speech on Europe on 23 January, and the UK's wish to play a leading role in making the EU more competitive, more democratically accountable and better able to meet future challenges. He also stressed the need for economic reform, combining greater eurozone integration with flexibility and ensuring the integrity and further development of the single market.