David Cameron visits Berlin
Prime Minister holds talks with Chancellor Merkel and stresses importance of "strong and positive partnership" with Germany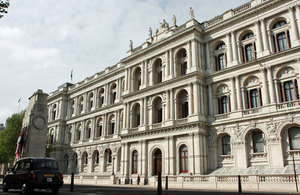 Prime Minister David Cameron and German Chancellor Angela Merkel
On Friday 21 May, the British Prime Minister, David Cameron, travelled to Berlin for talks with German Chancellor Angela Merkel. It was Mr Cameron's first visit to Germany since being appointed Prime Minister on 11 May.
Chancellor Merkel welcomed the Prime Minister at the Federal Chancellery with military honours. Talks covered the whole range of bilateral, European and international issues on which the UK and Germany cooperate, including the economic situation in Europe, the NATO mission in Afghanistan and the prospect of further sanctions against Iran.
Speaking after the meeting, the Prime Minister said he wanted a "strong and positive partnership" with Germany.
Read more: the Prime Minister meets Chancellor Merkel (Number 10 website)
Published 25 May 2010