David Cameron: UK support to clear landmines in Libya
UK aid will help protect people in Libya from the threat of deadly landmines, allowing them to return safely to their homes and businesses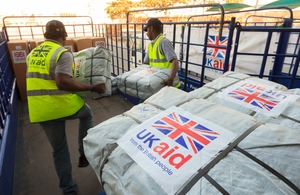 UK aid will help protect around a million people in Libya from the threat of deadly landmines the Prime Minister said today as he announced new support for vital mines clearance and safety work during a visit to Libya.
The new British support will help Libyans to return safely to the homes and businesses they have fled. It will go through the Mines Advisory Group - known as MAG. It will contribute to:
Deploying mobile teams to the west of Libya and the northern coastal region to identify and mark areas where there are landmines or other unexploded ordnance
Working with the UN's Joint Mines Action Co-ordination Team to ensure that hazardous areas are quickly cleared
Providing emergency mines risk education to local communities to ensure that those returning to conflict areas - including children - are aware of the risk of unexploded material
MAG's work continues to focus on areas worst affected by the fighting.
International Development Secretary Andrew Mitchell said:
Millions of men, women and children across Libya are at risk from landmines. Many Libyans have been uprooted by the conflict and are unable to return to their homes for fear of unexploded shells and grenades. 

With the support I have announced today, MAG will identify and dispose of unexploded material to prevent a secondary wave of death and injury as people return to communities in conflict-affected areas. 

Public information on the risks is also vital, and will help to prevent children treating shells and grenades as toys and trophies, something that we have already seen can have tragic results.
Published 15 September 2011