News story
David Cameron has announced new measures to support UK small firms
Small businesses will benefit from a series of packages announced at a Federation of Small Businesses (FSB) event today.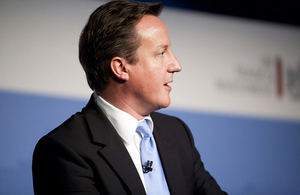 Prime Minister David Cameron has pledged his commitment to continue to make it easier for small firms to thrive and save the UK's 4.9 million small businesses up to £10,000 each a year.
David Cameron's message to Britain's small businesses
Business Secretary Vince Cable said:
This package is part of the government's efforts to boost support for the growing number of small businesses across the UK. Small firms employ around 14 million people and are making an increasingly significant contribution to the British economy.
Enterprise and Skills Minister Matthew Hancock said:
Small businesses are the bedrock of the UK economy and I'm delighted that today at the Federation of Small Businesses policy day, we are able to cement our commitment to help them grow.

Small businesses are responsible for nearly half the job creation in the UK. That's why we must continue our drive to provide the support they need to scale-up, move into new markets and hire more staff so that they can compete in the global race.
Find out more and join the discussion
Images on BIS Flickr from the Federation of Small Businesses event
Published 27 January 2014