David Beckham meets troops in Helmand
English football star David Beckham arrived at Camp Bastion, the main British base in Afghanistan, last night for a goodwill visit to meet British and US Armed Forces.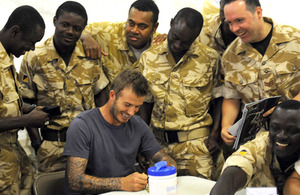 He accompanied troops on a routine flight from RAF Brize Norton, Oxfordshire, early yesterday morning, making a stop over in the United Arab Emirates before heading for Helmand province, Afghanistan, where around 9,000 British troops are based.
The 35-year-old England footballer, who is missing playing in the World Cup in South Africa because of an Achilles injury, is meeting hundreds of British and US troops during the morale-boosting visit.
He is also drumming up support for England in the World Cup and for the country's bid to stage the 2018 World Cup. Only a week ago he handed in England's official 'Bid Book' at FIFA's headquarters in Zurich.
Father of three, Beckham, who now plays for AC Milan and Los Angeles Galaxy, has been a major supporter of Britain's Armed Forces and various military charities, including Help for Heroes.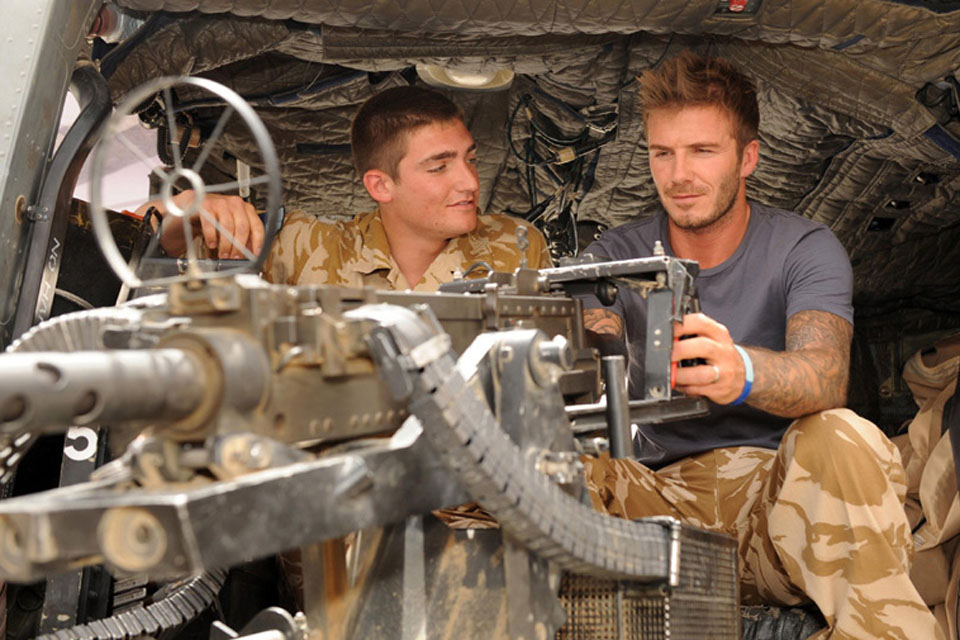 Beckham said:
I have nothing but admiration for these young men and women and it makes me very proud to be British.

I've wanted to visit Afghanistan for a long time and I hope that in some small way it helps remind everyone at home what an amazing job they are doing out here in very difficult conditions. I feel very humble.
Beckham had breakfast in the cookhouse today before taking part in a question and answer session with troops and visiting the camp's hospital.
Squadron Leader Sarah Charters, who runs the emergency unit at the hospital, told him about the work they do. She said:
A visit like this means a lot to everyone here.

It is an absolute honour to work in an environment like this where I know I am contributing to help save lives and David's visit reminds everyone at home of what we actually do here.
Beckham said:
You know I've been here just one night so far and the experience has been even more than I could have ever hoped.

To see the morale of the troops is really incredible. It first kind of hit me on the way over when we were on the military plane flying into Afghanistan.
"You can see the faces, you can see obviously they know they are leaving their families, but they're so focused and they've got this look in their eyes that they're just so confident and just ready. That really is an unbelievable sight to see, and you feel it as well."
Beckham also received a lesson in weapons-handling from Craftsman Bob Floy, from Doncaster, who showed him how to use different weapons including a heavy machine gun.
He also visited 1st Battalion The Royal Gurkha Rifles and took part in a penalty challenge with them, scoring with his only attempt.
He added:
Just yesterday one of the troops was killed, and you feel it and you see the flags at half-mast and you feel the tension there. It really is, like I said, amazing to be around but you feel the love from everybody.

It just really is scary work. These guys are the bravest people that I've ever met and it really is, it truly is, an honour to be here.
The visit was organised by the Permanent Joint Headquarters and the Forces entertainment charity, Combined Services Entertainment, which is dedicated to providing live entertainment and morale-boosting visits to British troops on operations.
Published 22 May 2010