Press release
Davey: Big energy companies must put customers in control
Reforms to make the energy market competitive and work in the public interest unveiled as part of the Annual Energy Statement 2013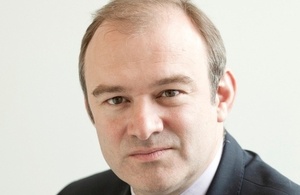 Consumers will find it easier to switch and get the best deal, forcing energy companies to compete much more actively for their custom, as part of reforms to ensure the energy market is truly competitive and working in the public interest, Energy and Climate Change Secretary Edward Davey announced today.
Mr Davey announced plans to make switching simpler and quicker, and a new probe into energy firms' accounts, to make them more transparent on profits and prices, as well as increasing penalties for market manipulation and regularly checking that the market is working properly in today's Annual Energy Statement.
Mr Davey said:
The energy industry needs to change to put consumers in control. That means making it easy for people to change supplier to save money, it means regular market assessments to check their behaviour, and it means tougher penalties for market manipulation and putting an end to opaque finances.

We want to push energy companies to make switching quicker and easier – because consumer action can force suppliers to change their ways. Bills are being re-designed through Ofgem's retail market reforms to give people the information they need to make switching easy – and we are taking direct action through the Big Energy Saving Network to bring first hand help to those vulnerable people who find switching difficult.

Energy companies need to know that any wrongdoing will be uncovered and dealt with. That's why the regulators are going to carry out annual competition reviews, to make sure the energy market is operating properly. We are going to consult on increasing the sanctions for manipulation of the energy markets, so that they carry criminal penalties for the first time.
Mr Davey set out a number of new measures aimed at giving consumers more control:
Energy companies will be told that they must make switching suppliers faster for consumers – with an ambition to move to switching in 24 hours, rather than the current five weeks, without increasing consumer bills.
First Utility have been leading the push towards faster switching and Mr Davey will meet with them over the next few weeks, along with Ovo, Spark, Good Energy, EON, Scottish Power, SSE and Co-op, and any other interested suppliers about how to make the switching process a lot faster.
As well as energy companies now being required to tell consumers about their cheapest tariff on the front of every bill, energy companies will be required to include a QR (Quick Response) code on energy bills, so that smartphone users can switch to the best deal through a few clicks on a mobile phone. As well as directly helping smartphone users, it will mean those giving advice on switching supplier to vulnerable people can instantly get the information needed to help them find the best deal on the market.
DECC will also look at requiring energy suppliers to provide key data securely to third parties such as switching sites.
Energy companies should be more open about how they treat credit balances in consumers' accounts, making every effort to return money to customers with closed accounts.
Where that is not possible, Mr Davey said that energy companies should ring-fence that money to help their most vulnerable customers. Energy and Climate Change Minister Greg Barker will shortly meet energy suppliers to discuss issues around direct debits, including the level of credit balances that energy companies hold.
DECC will work with the Post Office to signpost elderly and vulnerable people to the 500 volunteers being trained by the Big Energy Saving Network to help people find ways to cut their bills.

Building on existing reforms to make the energy markets more competitive, Ofgem will carry out a market assessment every year, working with the Office of Fair Trading and the new Competition and Market Authority when established, to monitor the behaviour of market participants and ensure the market is working for residential and small business consumers and that all suppliers can compete fairly. The first assessment will be completed by Spring 2014.

Financial transparency is critical for rebuilding consumer trust, so energy companies need to be much more transparent about how they report their finances. Ofgem will carry out a detailed assessment of energy suppliers' financial reporting practices and set out necessary steps to improve transparency – so consumers can see where their money is going. This assessment will report in Spring 2014, alongside the first market assessment.

Appropriate penalties for those organisations who step out of line are a crucial part of a fair market. DECC will consult on introducing criminal sanctions for those who manipulate the energy markets in the same way as manipulation of the financial markets attracts criminal penalties.
Mr Davey also set out the steps the Government is taking to increase energy security by attracting investment in new, clean generation and taking the steps to make sure Britain's electricity supplies remain secure in the short term.
He said:
This is a critical time for our energy future as we deal with years of neglect and under-investment. The choices we are making now will affect the lives of every person in this country for decades to come.

We've done what's necessary to make sure the lights stay on in the short term, while the record £35 billion investment we've attracted since 2010 will make sure that old, dirty power stations are replaced with cleaner, more efficient and more home-grown alternatives – ensuring energy security and more stable bills in the next 50 years.
Since November 2012, the Government has approved seven major infrastructure applications worth around £20 billion, with the capacity to generate enough electricity to power more than six million homes. This includes the investment in Hinkley Point C, announced last week.
Renewables capacity has increased by almost 40% since 2012, with renewables now supplying a record 15% share of electricity generation – half way to the Government's 2020 renewable electricity goals.
In the offshore oil and gas sector, capital investment is expected to hit a record high of £13 billion, with 167 new licences granted.
Overall, at least £35 billion has been invested in increased electricity infrastructure since the start of 2010, bringing not just better energy security but economic growth, jobs and a boost to local communities.
Notes to editors
Information for consumers on how to cut their bills and keep their homes warm, drawing together information from across Government and the third sector
Key achievements and progress since the last AES in 2012:

Driving forward reform of the electricity market to ensure diverse, secure and low carbon energy supplies for the future, with announcements this year including draft strike prices for renewables, details of CfDs, initiation of the Capacity Market and most recently, a consultation on the proposals for EMR implementation.
Renewable electricity generation is up to a record 15%, a growth of 56% since the second quarter of 2012. Renewable electricity capacity has increased 38% over the same period.
Latest provisional DECC estimates show that at least £35 billion has been invested in increased electricity infrastructure since the start of 2010.
Commercial agreement reached between the Government and EDF Group on the key terms of a proposed investment contract for the first new nuclear power station in the UK in a generation at Hinkley Point C in Somerset.
Action is underway to ensure consumers are moved off poor-value dead tariffs, to limit the number of tariffs which suppliers may put on the market and to require consumers to be given clearer, more personalised information on their energy bills so they can compare and switch more easily.
Over 1.2 million of the lowest income pensioners are being provided with £135 off their fuel bills in winter 2013/14 through the Warm Home Discount scheme.
Since January 2013, 85,177 Green Deal assessments have been carried out and there have already been nearly 245,000 measures installed under the Energy Company Obligation scheme.
167 new licences have been awarded through the most successful North Sea offshore licensing round to date.
An increase in benefits from developers to communities hosting onshore windfarms in England, from £1,000/MW of installed capacity per year, to £5,000/MW per year for the lifetime of the windfarm has been announced.
Worked with industry to ensure communities will benefit from shale development in their area through a Community Engagement Charter, which sets out the benefits that will be paid to local communities.
Key smart meter procurements have been concluded and a licence awarded to operate the Data and Communications Company, which has signed contracts with companies to provide data and communication services worth £2.2 billion to support the mass roll out of smart meters.
£2.9 billion has been allocated in this Spending Round to support developing countries move to low carbon, climate resilient pathways.
Published 31 October 2013