World news story
DataBootCamp in Montevideo
The event is taking place until Friday March 14, sponsored by the British Embassy in Uruguay.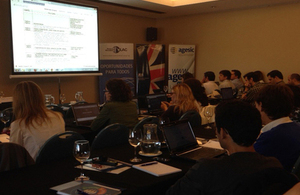 Over three days, journalists, developers and digital creatives will broaden their professional skills and learn about the newest tools and techniques to find, extract and analyze public data.
Open Data is one of the underpinning elements of the Prime Minister David Cameron's Transparency Agenda.
British Consul Katharine Felton said in the opening of this workshop on free data access, "Open Data is the raw commodity which enables government to release new economic growth and social value and improve public services and accountability."
The DataBootCamp has been organized by the Uruguayan Agency of Electronic Government and Information Society (AGESIC), along with the British Embassy, the World Bank Institute, the International Center for Journalists and PinLatam.
The workshop's trainers come from some of the world's most prestigious media companies. One of them is Andrew Leimdorfer, Product Developer at the BBC News Specials Unit. Other panelists are public finance experts from OpenSpending and Google; as well as a finance team from the World Bank and economic specialists.
This is the first DataBootCamp in Uruguay and only the second in Latin America, the first was in Bolivia in 2013.
Published 12 March 2014