Daring joins allied navies for her first major operation
Britain's most advanced warship has joined allied navies in a sweep of troubled waters for her first major operation east of Suez.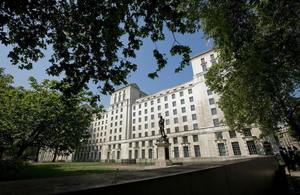 The Type 45 destroyer joined Australian, Pakistani, New Zealand and Yemeni ships and personnel for Operation SCIMITAR ANZAC, scouring the Red Sea, the Gulf of Aden and the coast of Yemen for illegal activity.
The operation has also seen HMS Daring put her command abilities to the test for the first time as she hosted the Australian and New Zealand Navy personnel who are currently directing the at-sea activities of Combined Task Force (CTF) 150, to which the Type 45 belongs on her east of Suez mission.
For as well as being able to shoot down incoming missiles travelling at three times the speed of sound, the Portsmouth-based warship has specially-built command facilities, including a dedicated planning room, from where the movements and actions of a task group can be directed.
In addition to the CTF 150 command team, Daring - on her maiden deployment - also embarked Yemeni observers, whose contribution proved extremely valuable, providing expertise and in-depth knowledge of the region to the ships involved as the group moved around the area of operations.
The Task Force also enjoyed the support of tanker RFA Wave Knight, which kept the ships supplied with fuel and stores and also contributed her Lynx helicopter.
Daring's Petty Officer, Lee Butler, said:
Seeing all of the different nations working together aboard Daring was very encouraging. The in-depth knowledge provided by the Yemenis has also been particularly useful.
Captain Lance Cook, Royal New Zealand Navy, Chief of Staff of the embarked command team from CTF 150, explained that the operation is significant as more than 23,000 vessels a year pass through the waters patrolled during SCIMITAR ANZAC.
His Task Force's key mission is to stamp out illicit activity - piracy, smuggling, people-trafficking - and safeguard mariners going about their lawful business, thus maintaining stability in the region.
Published 1 March 2012