World news story
Dare to lead: Canadians invited to apply for the UK government's global scholarship programme
2016/17 recipients from Quebec and Newfoundland and Labrador join over 300 Canadians who have received a prestigious Chevening scholarship.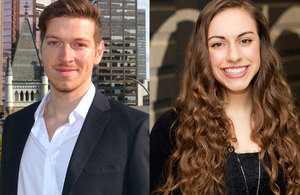 Funded by the Foreign and Commonwealth Office (FCO) and partner organisations, Chevening Scholarships are the UK government's global scholarship programme.
The scholarships offer the opportunity to study for a one-year master's degree at any of the UK's leading universities, and are awarded to outstanding established or future leaders across a wide range of fields. The programme provides a unique opportunity for tomorrow's leaders to build a global network of continuing professional significance and also to establish social, cultural, academic, or commercial partnerships with the UK.
Since its inception in 1983, over 300 Canadians have received a Chevening scholarship. This year, UK universities will welcome two Canadian scholars: Alexis Wagner from St. John's, Newfoundland and Labrador and Jordan-Nicolas Matte from Montreal, Quebec.
Applications for 2017/18 Chevening Scholarships must be submitted online at www.chevening.org/apply and the deadline for receipt of applications is 8 November at 12:00 GMT (midday UK time).
Dare to lead
Chevening Scholars have ambition and leadership potential, a strong academic background, and have strong interpersonal skills.
Chevening Scholars tend to rise to prominent positions in their countries, and in their chosen fields.
Chevening Scholars are also invited to a vast programme of exclusive networking events, talks, trips across the UK, and volunteering opportunities
On graduating, scholars join over 44,000 other Chevening Alumni who together form an influential and highly regarded global network
Chevening has been running since 1983 and Chevening Alumni form the backbone of the scheme.
Numbering 44,000 worldwide, Chevening Alumni constitute a highly-regarded global network of skilled professionals working in a range of fields, including politics, business, law, media, academia, and civil society.
For the 2017/2018 academic year, over 1,500 scholarships will be awarded to scholars from over 160 countries and territories.
Further information
Media enquiries
Trevor Kerr
80 Elgin Street
Ottawa Ontario K1P 5K7
Canada
Published 29 August 2016