News story
Danny Alexander visits India to strengthen UK-India trade and investment
Chief Secretary to the Treasury has been spending 3 days in Mumbai, Patna and New Delhi.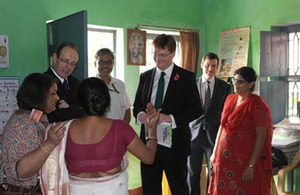 Chief Secretary to the Treasury Danny Alexander has spent 3 days visiting India to build relations with senior business leaders and make the case for UK-India trade and investment. His programme has taken him to Mumbai, Patna (Bihar state) and New Delhi.
In Mumbai, the Chief Secretary spent time with a range of investors, supporting the joint target announced by the UK and Indian governments to double trade between 2010 and 2015.
Launching the first projects under the Dfid Samridhi fund, he heard from innovative healthcare, energy and water companies who highlighted how Dfids investment will help bring solar lighting and clean drinking water to rural communities.
These businesses represent an excellent example of how UK funding can support Indian enterprise and technology to bring support to the poorest regions.
In Bihar, a state with a population 3 times larger than that of the UK, he visited a range of successful Dfid-funded projects.
Visiting a centre that addresses malnutrition in pre-school children and a 'one-stop-shop' for public services support, the Chief Secretary saw how strategic planning and funding can improve the socio-economic status of entire families.
The investment by Molson Coors Cobra in a new Bihar beer factory is an example of how the UK can support rapid growth in one of India's poorest states. The Chief Secretary met a dynamic range of business leaders and policy makers in New Delhi, to reinforce the UK's cooperation on international economic policy.
He made the case for further strengthening the Indo-UK business relationship, encouraging infrastructure financing and investment partnerships, and sharing information to better tackle offshore tax evasion.
The visit reflects a deepening partnership between the two countries including strengthening trade and investment ties, which are generating more jobs, more growth, and more security for both nations.
Last year, the UK approved 97% of Indian business visa requests – proof that we are open for business.
More Indian investment comes to the UK than to the rest of the EU combined. There are over 900 Indian companies in the UK, with Tata being the largest manufacturing employer across the whole country.
Published 30 October 2013